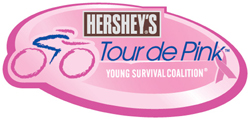 THE HERSHEY COMPANY PEDALS INTO BREAST CANCER AWARENESS MONTH WITH SPECIAL PACKAGING AND 220 MILE CHARITY BIKE RIDE
Hershey's to Debut Special Edition Pink Packaging on Hershey's Bliss Chocolates and Sponsor Fifth Annual Hershey's Tour de Pink
The Hershey Company is dedicated to raising awareness of breast cancer and honoring survivors and will debut special edition pink ribbon wrappers on Hershey's Bliss® chocolates during Breast Cancer Awareness Month. In addition, for the fifth consecutive year the company will host the four-day charity bike ride, Hershey's® Tour de Pink, to support women under 40 struggling with the disease. The ride also includes an online Virtual Charity Ride, inviting consumers from around the country to join the ride and show support for the Young Survival Coalition (YSC). The YSC is the premier international organization dedicated to the critical issues unique to young women and breast cancer. Hershey's will also honor young survivors by featuring five women and their survivor stories on displays at participating retailers and on www.hersheyspledge.com.
Hershey's Bliss
chocolates is honoring and supporting breast cancer survivors by profiling the stories of five women who battled the disease. All diagnosed under the age of 40, five women will share their courageous, inspirational stories of breast cancer survival through personal video testimonials, photos and blogs. Their stories will be chronicled on
www.hersheyspledge.com
throughout September as they train for the Hershey's Tour de Pink. Consumers can follow along and lend support and encouragement to the women and learn how to participate in the
Hershey's Tour de Pink
to support the Young Survival Coalition.
"The Hershey Company is so proud to support such a remarkable organization that positively impacts and changes the lives of young women faced with the emotions of dealing with breast cancer. Hershey's has donated nearly $1.5 million to YSC over the past five years and continues to stay committed to the organization," said Michele Buck, Senior Vice President, Global Chief Marketing Officer, The Hershey Company. "This year we are honoring and sharing the inspiring real faces of breast cancer survivors and we hope that these survivors move consumers, just as they have moved Hershey's associates, to get involved in the four-day charity bike ride or online Virtual Charity Ride."
Young Survival Coalition (YSC) is the premier international organization dedicated to the critical issues unique to young women and breast cancer. YSC works with survivors, caregivers, and the medical, research, advocacy and legislative communities to increase the quality and quantity of life for women diagnosed with breast cancer ages 40 and under.
"The Hershey Company's support of Young Survival Coalition helps us to continue to offer outreach programs and services for young women battling breast cancer," said Lisa J. Frank, Co-Founder of Hershey's Tour de Pink and Board Member of Young Survival Coalition. "Through consumer participation in Hershey's Tour de Pink four-day charity bike ride and Virtual Charity Ride, we're able to bring awareness about YSC to many communities and, in turn, raise critical funds for the vital programs we provide to our constituency and their families."
The Hershey Company will donate $300,000 to YSC in 2009, raising awareness for breast cancer and funding critical programming and education.
Join The Cause: Hershey's Tour de Pink and Virtual Charity Ride
This year, The Hershey Company invites consumers to actively show their support for YSC by registering to be a part of the
Hershey's Tour de Pink
four-day ride. The 220-mile bike ride from Hershey, Pa., to New York City will take place October 2 to October 5. For the second year, consumers across the country can also get involved in their community by joining the
Hershey's Tour de Pink
Virtual Charity Ride. Challenging consumers to pedal 220 miles from now until October 5, 2009, the
Hershey's Tour de Pink
Virtual Charity Ride gives consumers the resources to host their own YSC fundraising effort. Virtual Ride participants are required to raise a minimum of $250 in order to receive an official
Hershey's Tour de Pink
jersey. Participants can choose a bike of their choice, from a stationary bike to a bicycle built for two, or a combination of bicycle types, to log the 220 miles required to complete the virtual ride. Consumers can participate as an individual or as a team, logging miles online. For more information or to register to ride in the four-day
Hershey's Tour de Pink
or to become a virtual rider and participate in your community, visit
www.hersheyspledge.com
.
Pink Pride: Hershey Limited-Edition Pink Products
For the first time since its April 2008 launch, limited-edition Hershey's Bliss chocolates will be available September through October at participating mass, grocery and specialty retailers. All Hershey's Bliss chocolates will feature pink ribbon wrappers and packaging in honor of Breast Cancer Awareness Month and in-store displays will feature breast cancer survivors affiliated with YSC.
About the Young Survival Coalition
The Young Survival Coalition was founded in 1998 by three women diagnosed with breast cancer under the age of 35 who were discouraged by the lack of information available to young women diagnosed with the disease. With revenues of over $3 million, over 23,000 constituents, nineteen staff people and twenty-four affiliates, YSC works to change the face of breast cancer by advocating for more research on young women and breast cancer and providing this underserved population with programs and services specific to them. YSC also provides a peer-support network of survivors as well as vital resources to decrease the sense of isolation felt by young women affected by breast cancer.
About The Hershey Company
The Hershey Company (NYSE: HSY) is the largest producer of quality chocolate in North America and a global leader in chocolate and sugar confectionery. Headquartered in Hershey, Pa., The Hershey Company has operations throughout the world and more than 12,000 employees. With revenues of more than $5 billion, Hershey offers such iconic brands as
Hershey's, Reese's, Hershey's Kisses, Kit Kat, Twizzlers
and
Ice Breakers
as well as the smooth, creamy indulgence of
Hershey's Bliss
chocolates. Hershey is a leader in the fast-growing dark and premium chocolate segment, with such brands as
Hershey's Special Dark
and
Hershey's Extra Dark
. In addition, Artisan Confections Company, a wholly owned subsidiary of The Hershey Company, markets such premium chocolate offerings as
Scharffen Berger
and
Dagoba
. For more than 100 years, The Hershey Company has been a leader in making a positive difference in the communities where we live, work and do business. The Milton Hershey School, established by the company's founder in 1909, provides a nurturing environment, quality education, housing, and medical care at no cost to children in social and financial need. The School is administered by the Hershey Trust Company, Hershey's largest shareholder, making the students of Milton Hershey School direct beneficiaries of Hershey's success. Please visit us at
www.hersheys.com
.
---
COUNTRY WALKERS TURNS A FOCUS ON VALUE
WITH NEW ADVENTURES FOR 2010
-- Five new walking adventures fill the calendar for Country Walkers
plus free local wine and beer, guaranteed departures, and added savings --
What else can guests look forward to from Country Walkers in 2010? Start with authentic local flavor by the mug and the glass, with complimentary artisanal beer and wine to accompany all dinners on every trip. Continue on to guaranteed departures – long a staple of Country Walkers, but now newly significant in light of the fact that many travel providers have discontinued guaranteed departures to cover their bottom lines. Country Walkers has also held most of its tour prices where they were during 2009.
Every 2010 Country Walkers trip reservation made prior to December 15, 2009 receives a 5% savings. Returning guests can combine that savings with the 5% they already receive for a total savings of 10%.
Here's a closer look at what is NEW on the map from Country Walkers for 2010:
Northern Ireland
: Trip lively for 7 days on this all-new adventure along the stunning coast of Northern Ireland. Highlights include kayaking on the Strangford Lough Canoe Trail; a visit to the Tollymore Forest; and the bizarre basalt columns of Giant's Causeway. A stay at
Bushmill's
Inn
and a private whiskey tasting from the world's oldest legal distillery, kick things up a notch.  Country Walkers is one of very few tour operators that travel to Northern Ireland, and the only one with walks in the Mournes.
$3,798. Departures in 2010: July 5, August 9 and August 30.
Italy: Piedmont:
Country Walkers has been in Italy for years, yet this is the company's first foray into Piedmont, the birthplace of the "slow food movement." Kick off your walking shoes and refuel with truffles from Alba; world-renowned Barolo and Barbaresco wines; honey and cheese from local artisans; and a picnic in the shadows of Monviso. The 7-day tour also follows the ancient Salt Road through hazelnut groves and fruit orchards.
$4,298. Departures in 2010: September 11 and October 2.
Brazil
: Pantanal, Tablelands & Amazon
: Three distinct ecosystems welcome guests on this adventurous amble across the state of Mato Grosso in Western Brazil. The 10-day trip of walking, horseback riding and boating takes in the Pantanal Wetlands, the
Cerrado
(savannah) and the ever-amazing Amazon rain forest, with exotic flora and fauna on wide-eyed view.
$3,589. Departures in 2010: June 19, July 17, August 17, with a special departure September 11 with renowned photographer, Richard Koegl.
Turkey: The Lycian Way & Ephesus:
Starting and ending in Istanbul, the 9-day adventure takes in the Antalyan Peninsula and the stunning Mediterranean coast, replete with Greek, Roman and Byzantine remains; as well as Ephesus, the Greco-Roman archeological marvel. Country Walkers puts the emphasis back on walking on this adventure along the Turquoise Coast.
$4,698. Departures in 2010: September 23, October 14.
California
: Yosemite & Tahoe
: This 6-day adventure covers two of California's most renowned destinations: Yosemite National Park and Lake Tahoe. Enjoy backcountry explorations of Tioga Pass, Gaylor Lakes, Mount Dana, and the Tuolumne Meadows. In Tahoe, stride trails through fragrant forests, along the rim of the lake, and Emerald Bay – a National Natural Landmark and site of Vikingsholm, one of the area's most extravagant mansions. Enjoy 3 nights at
The Ahwahnee Hotel
in Yosemite, a National Historic Landmark and one of the country's most distinct resort hotels.
$3,598. Departures in 2010: May 16 and September 5.  
For more information on Country Walkers' 2010 catalog, or to make reservations, please contact (800) 464-9255, or visit www.countrywalkers.com.
ABOUT COUNTRY WALKERS
Country Walkers, based in Waterbury, Vermont (www.countrywalkers.com) was established in 1979 and is the world's premier small group walking tour provider. Country Walkers offers well-crafted itineraries for Walking à la Carte, Classic Walking, Hiking and Private vacations. All trips highlight superb cuisine, outstanding tour guides, and authentic accommodations. 
TUI Travel PLC is a collection of extraordinary travel companies. It operates from 17 major source markets, has 8 million customers and 72 brands. For more information visit tuitravelplc.com
---
Prem Rawat Named Ambassador of Peace in Potenza, Italy

Humanitarian and world-renowned advocate of peace, Prem Rawat was given the title of "Ambassador of Peace" for the province of Basilicata, Italy, after addressing a distinguished audience at an event on July 3rd. The invitation was extended to Prem Rawat by Basilicata President Vito de Filippo, and Mr. Rawat was welcomed by lifetime Senator Emilio Colombo, a former Prime Minister of Italy and former President of the European Parliament.
In his introduction at the event, titled "Peace: Human Heritage," in the famous Conservatorio di Musica in the ancient mountainside town of Potenza in southern Italy, Governor de Filippo said, "Indeed, we look forward to this high level of thought from Prem Rawat. I believe deeply that embedded in our souls is the most solid foundation for bringing peace. Tonight an important seed will be planted that we will nurture and grow, for this is a land of peace."
Senator Colombo greeted Prem Rawat: "My salute to you, for you are indeed an emissary of peace. Potenza is just a stage for you on your continued journey, and I hope it is a good one." He quoted Mr. Rawat as saying, "If you want peace, then prepare for peace." Prem Rawat thanked the Governor and President and said that neither technology nor education would bring peace; only people could do that. Alluding to the world population, he added that he had not just one million, but seven billion reasons for peace. "We have to learn to come together," he said, "and that can only happen when we see the necessity." 
Mr. Rawat continued, "Do you want to do something really fun? Work on bringing peace on earth. One lit candle can light a thousand. However many of us there are, if we can raise the interest for peace in this world, something beautiful will happen." After being awarded a memorial plaque in recognition of his work as an advocate for peace, Prem Rawat was given a standing ovation.   
Notable guests also included Renato Cantore, Chief Editor of TGR News Media, the regional ministers of Health, of Industry and Tourism, of Infrastructure and Transport, as well as local Potenza business leaders, students from the Conservatorio di Musica, guests of the speakers, and several international attendees from Australia, Israel, and the United States. The event was broadcast for five days on the local TV channel, La Nuova. 
---