HEALTH MINDED   .   .   .
TASTE OF THE TOWN TO BENEFIT ARTHRITIS FOUNDATION 
38th Annual Events Set for September 6 and September 8, 2019
by Bonnie Carroll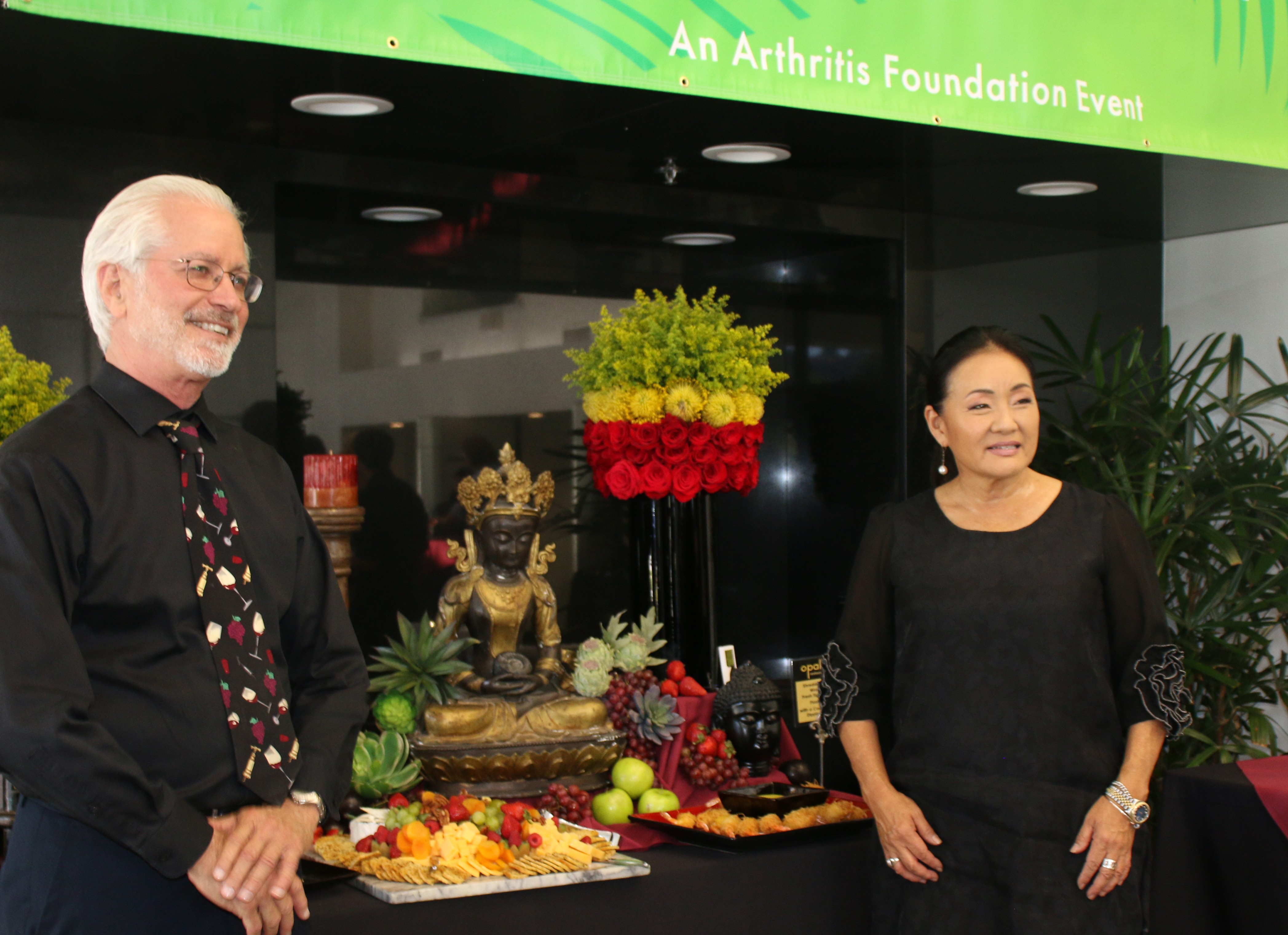 2019 Co-Chairs Richard Yates & Tina Takaya
A bevy of board members were among the VIP guest at the Arthritis Foundation Taste of the Town kick-off event hosted by Automotive Partner Porsche of Santa Barbara to celebrate the upcoming Gala Dinner & Action and 38th Taste of the Town. Returning honorary Co-Chairs Tina Takaya and Richard Yates of Opal Restaurant & Bar, were joined by John O'Neill of Banc of California to address the large crowd. Opal's delicious appetizers were paired with a bevy of Honorary Vintner Foley Family Wines throughout the evening.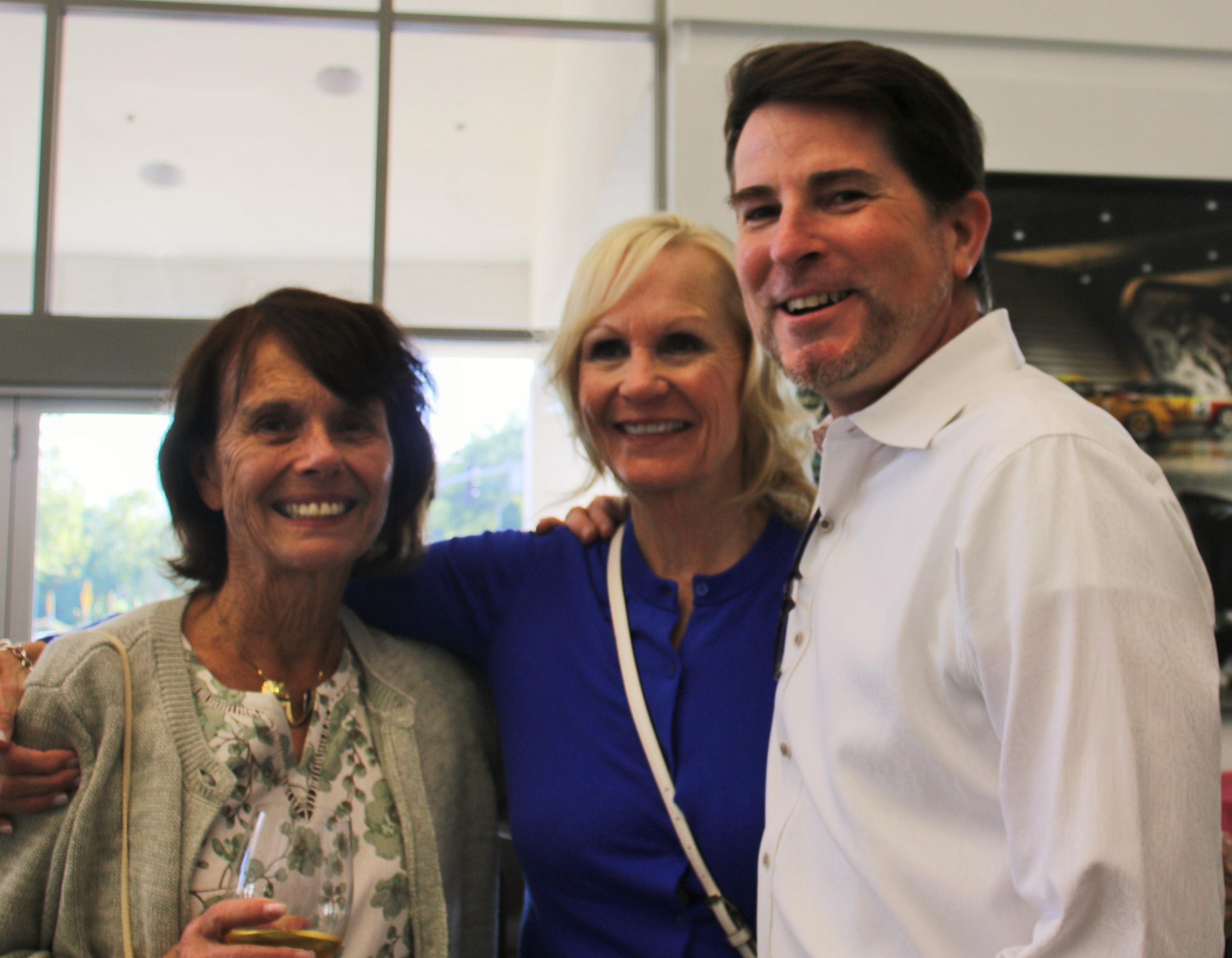 Executive Michal Weisbrock Greeting Guests
Michal Wiesbrock, Executive Director of Arthritis Central Coast announced the dates of September 6-or the 38th Annual Connoisseurs' Circle Gala Dinner & Auction at the Hilton Santa Barbara Resort, followed by the September 8 Annual Taste of the Town at Riviera Park.
The two extraordinary gastronomique events for Taste of the Town include a Connoisseur's Circle Gala Dinner & Auction Friday, September 6 at Hilton Santa Barbara Beachfront Resort. If you want to get started a little earlier, you can get the VIP ticket which includes The Connoisseurs' Circle Gala dinner and live auction on Friday, Sept. 6 at Hilton SB Beachfront Resort from 6-11 p.m.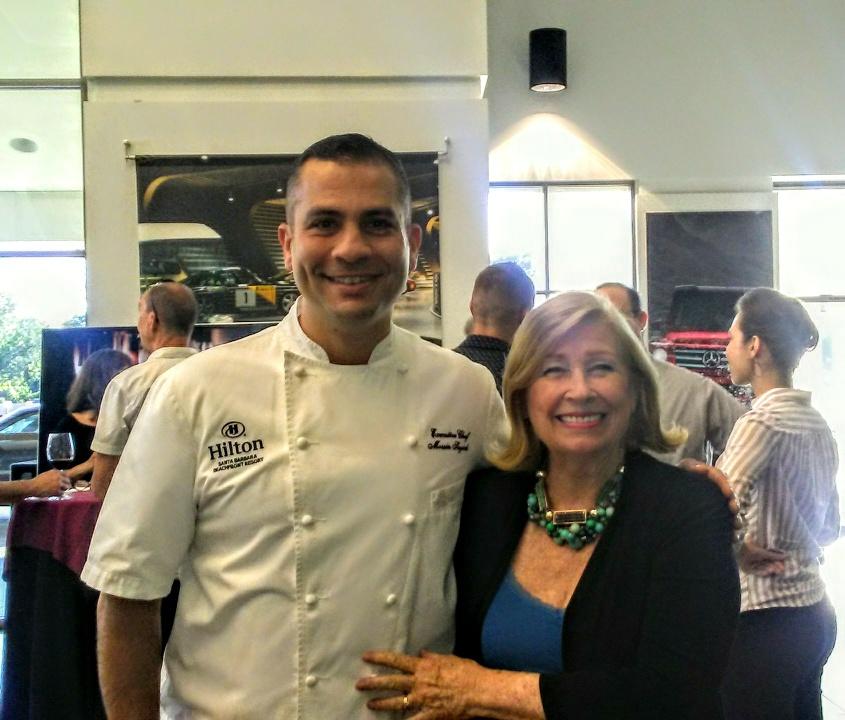 Executive Chef Mossin Sugich Hilton Santa Barbara
Enjoy a 4-course gourmet meal created by our Culinary Honoree Exec. Chef Mossin Sugich, Hilton SB Beachfront Resort, paired with exquisite wines from our Vintner of the Year Courtney Foley, The Foley Food and Wine Society. Dance under the stars to the sounds of DJ Darla Bea. The culinary delight dinner will be served in the Rotunda and will be paired with wines from Foley Family Winery.
On Sunday, September 8 the Riviera Park overlooking the city from noon to 3:00 pm will be the site of the Taste of the town featuring over seventy of the finest restaurants, caterers, wineries, breweries and spirits providers, with a silent auction, photo booth and live jazz from the Dave Tovar Trio. For more information and to purchase tickets for the event or for the VIP event: bit.ly/2Z9hRYT
All proceeds from these events support Arthritis Foundation services and programs. For detailed information and tickets please visit: www.arthritis.org/tasteofthetownsb.
___________________________________________________________________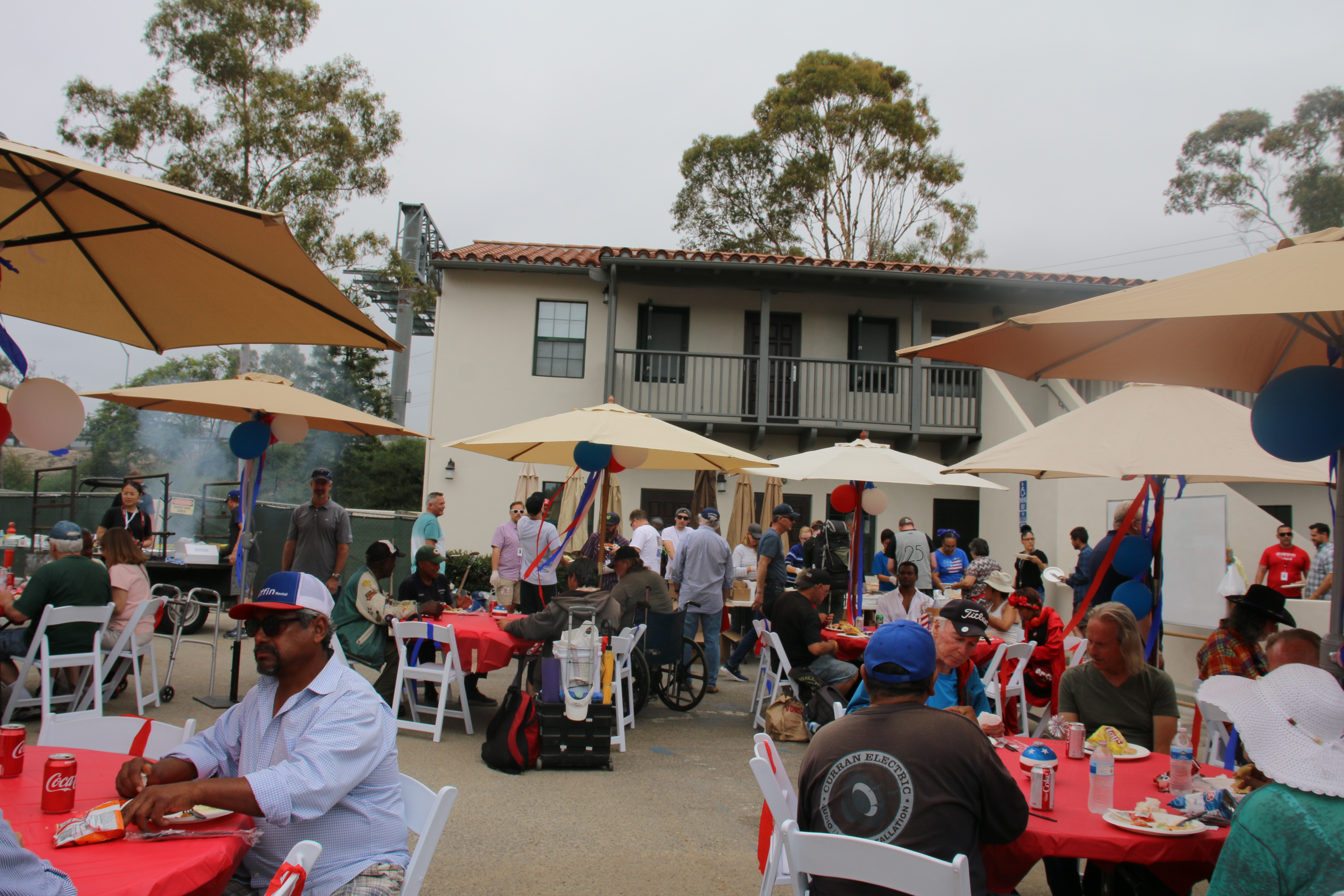 11th ANNUAL RESCUE MISSION 4TH OF JULY BBQ FOR THE HOMELESS
by Bonnie Carroll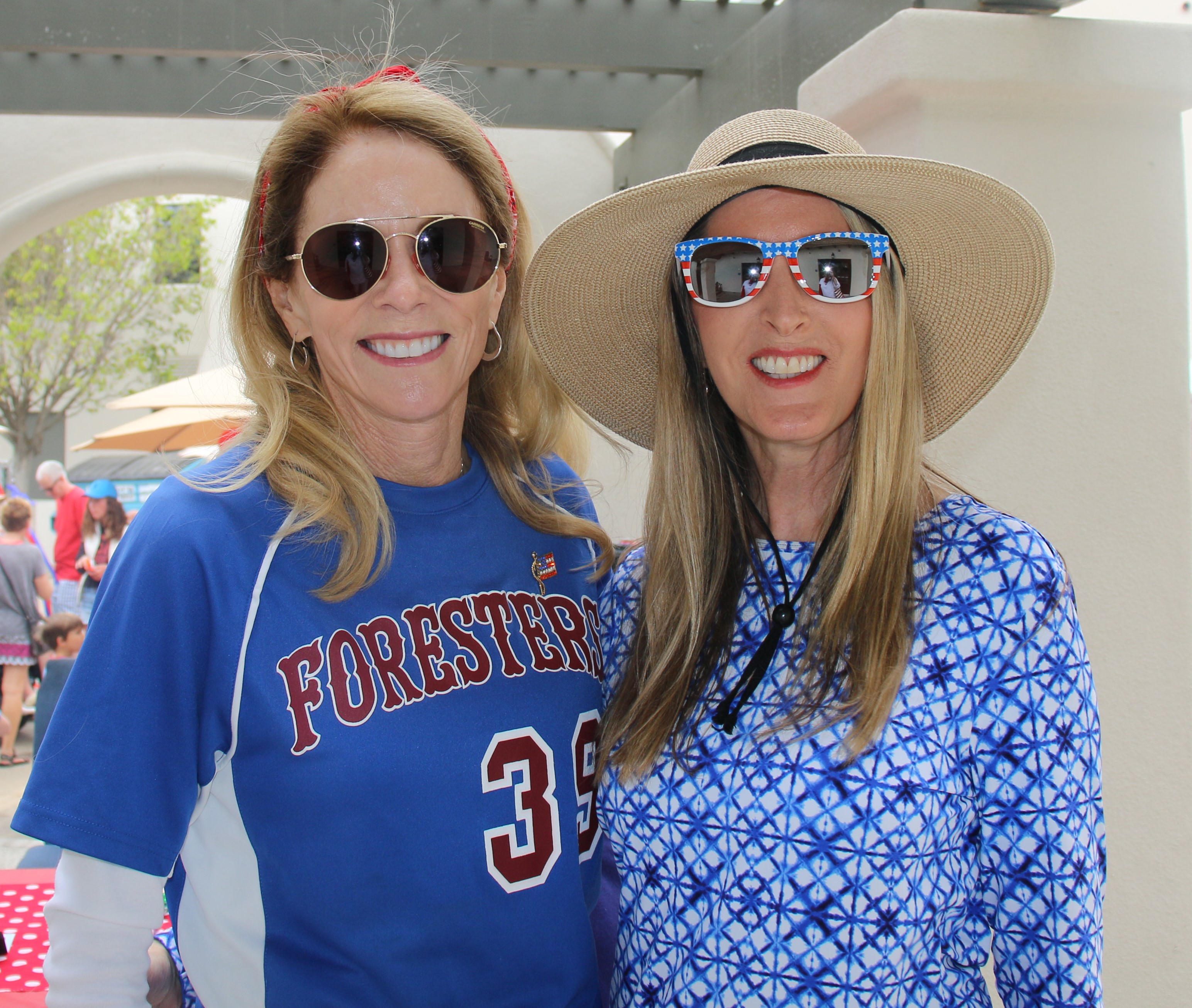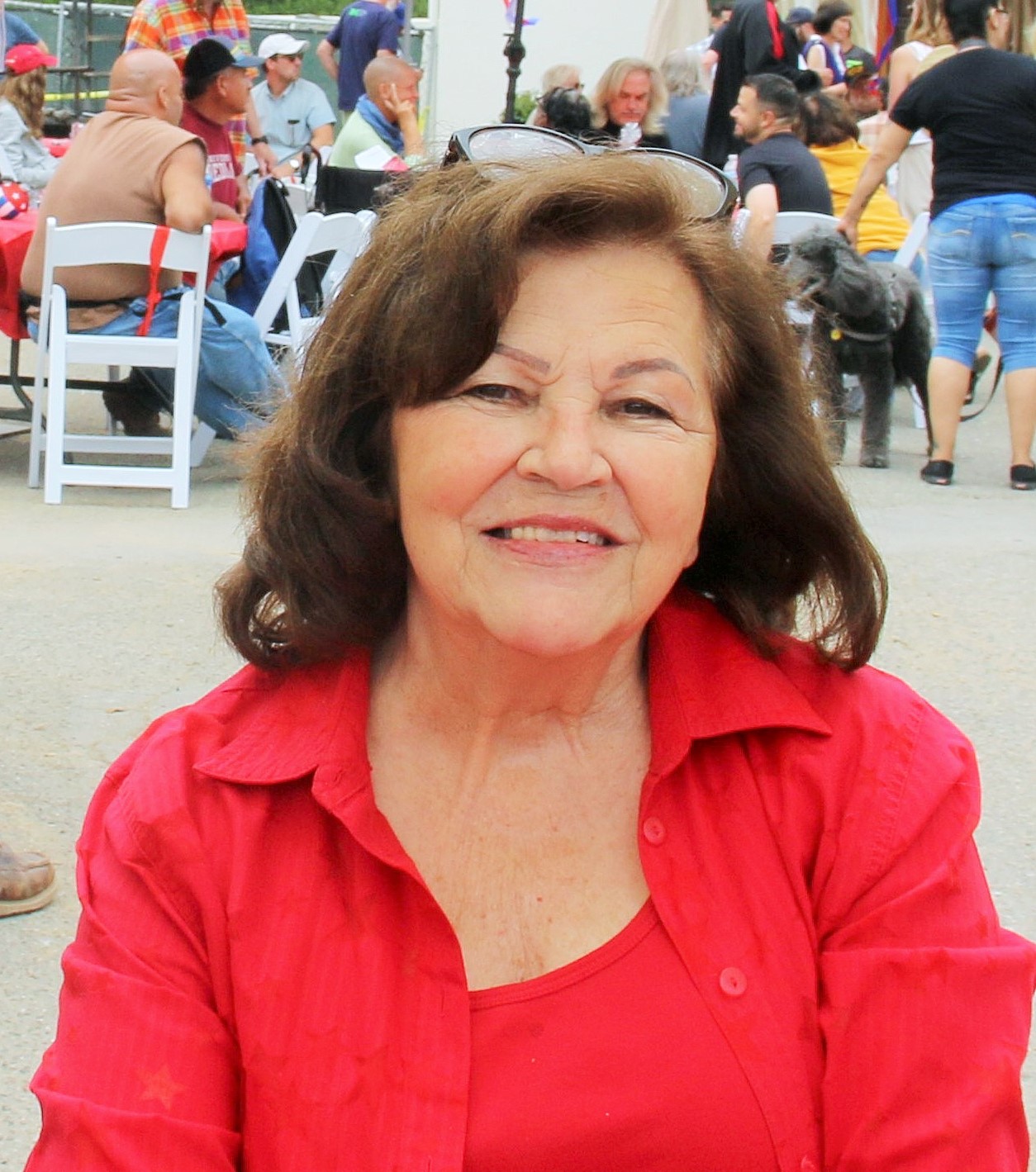 Kim Schuck, Women's Auxiliary President, Rebecca Weber, PR Director & Dianne Davis SBRM Board Member Welcomed Guests
The Santa Barbara Rescue Mission held it's 11th Annual J4th of July BBQ dinner for homeles guests in the Rescue Mission parking lot at 535 East Yanonali Street, where 71 members of the Women's Auxiliary provided colorful decorations and raffle prizes for attending guests. Men in the Mission's 12-month Residential Recovery Program, along with volunteers cooked and presented a delicious patriotic style dinner with all the trimmings for guests enjoyment.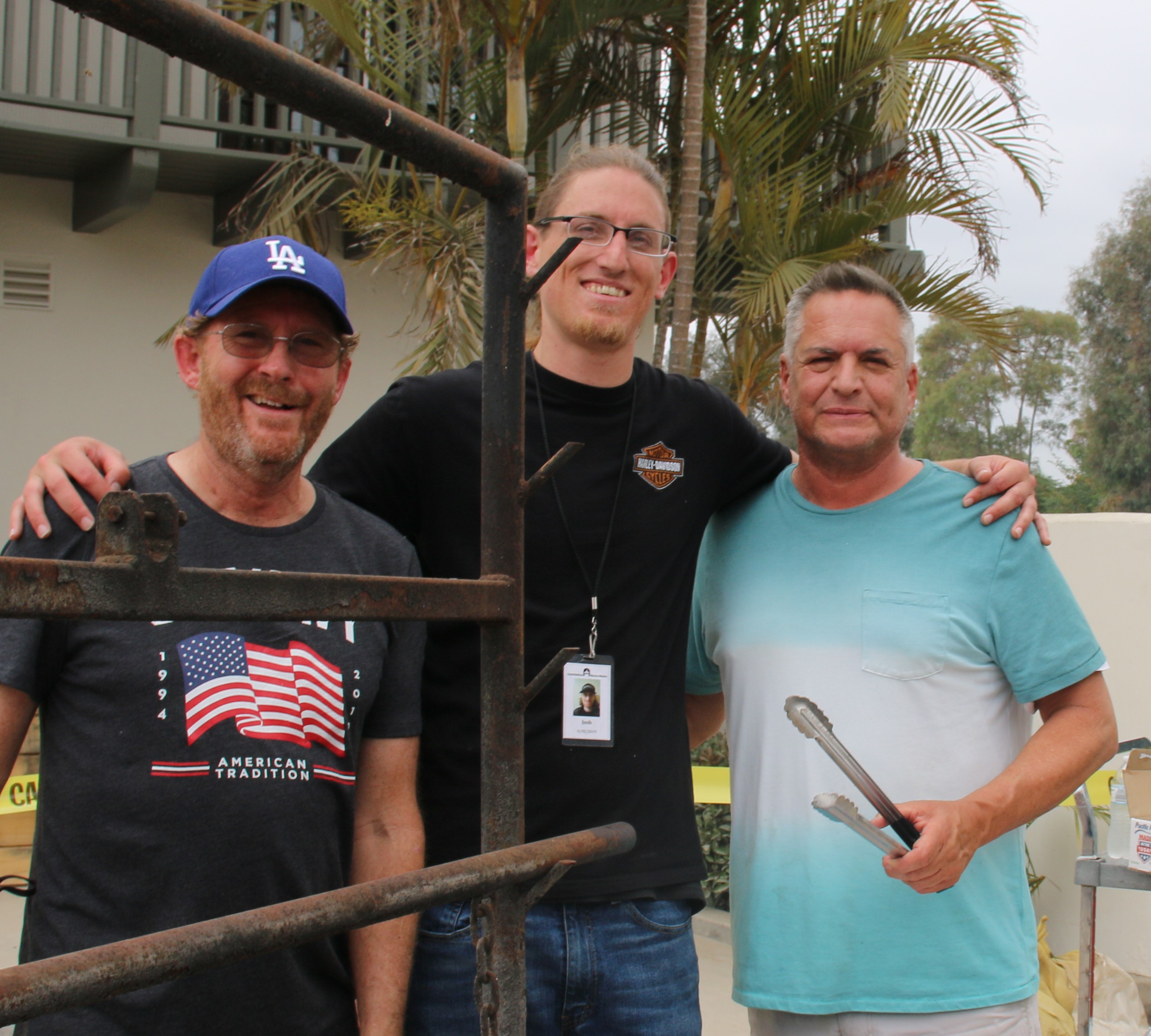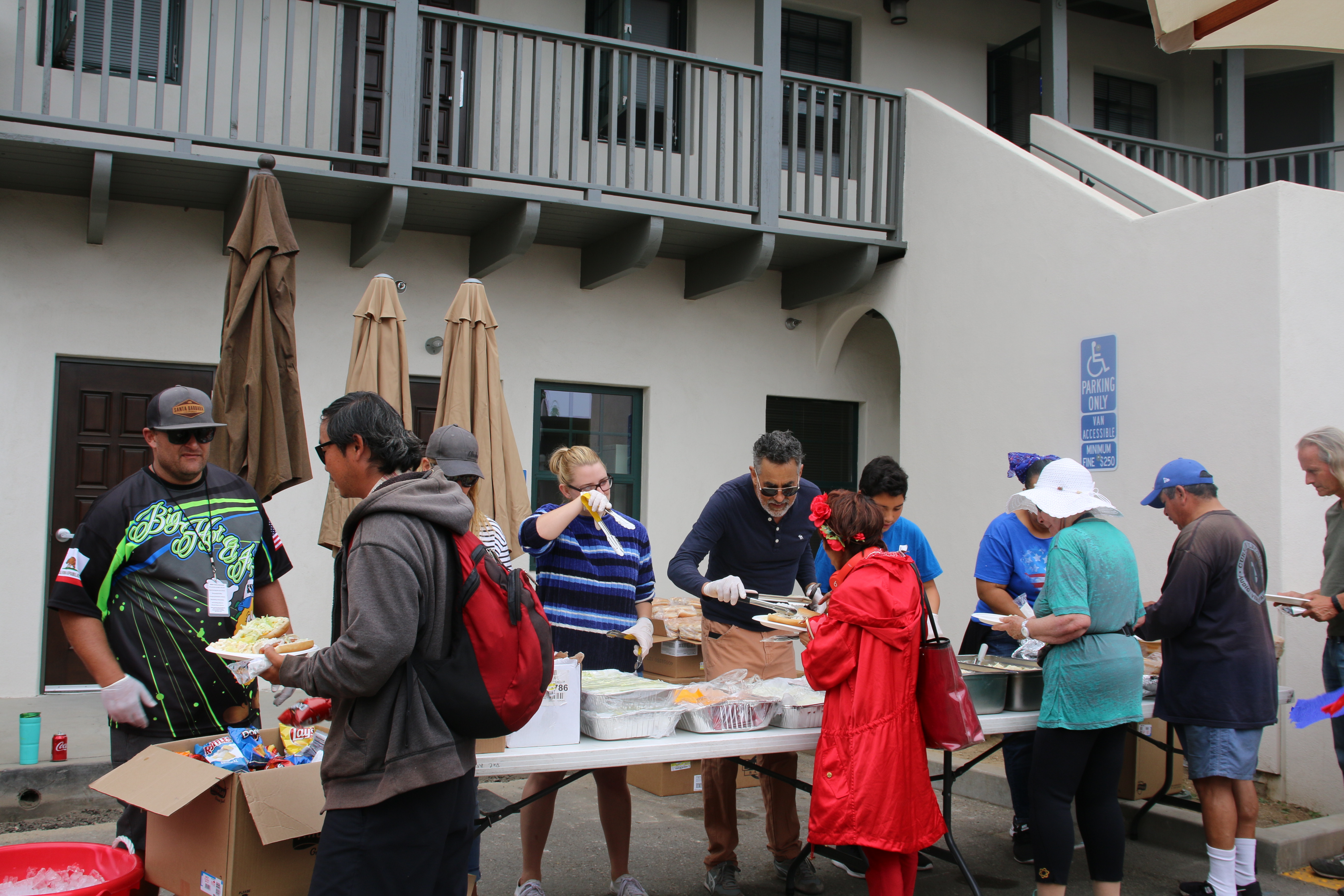 Mission Chefs & Servers Provided 4th Dinners to Homeless
The hamburgers and hotdogs with a choice of beverages were all enjoyed by guests, as well as a selection of great gift options for winners of the special live raffle. Entertainment was provided by Rolf Geyling's sons Wilson and Max Geyling who performed all afternoon.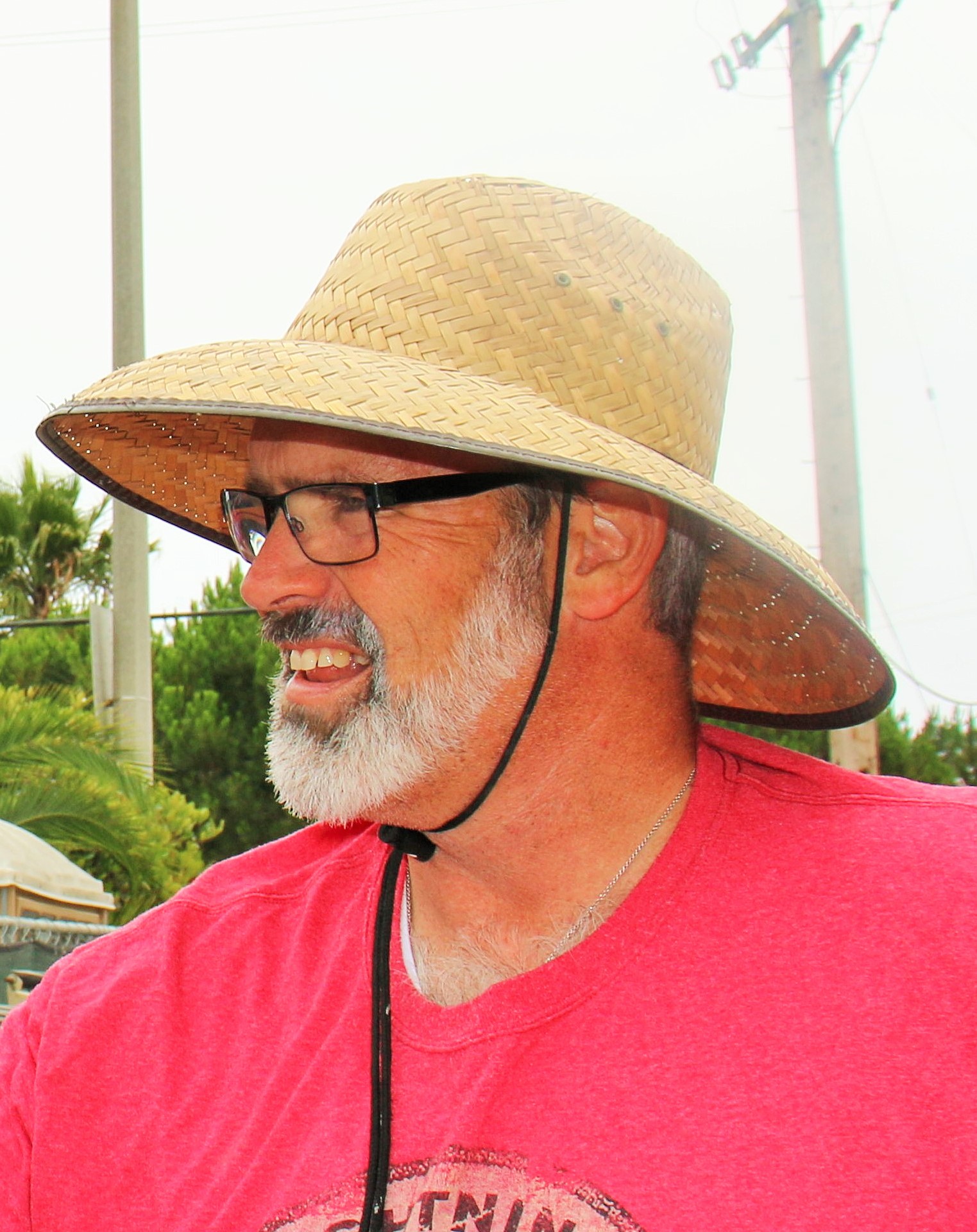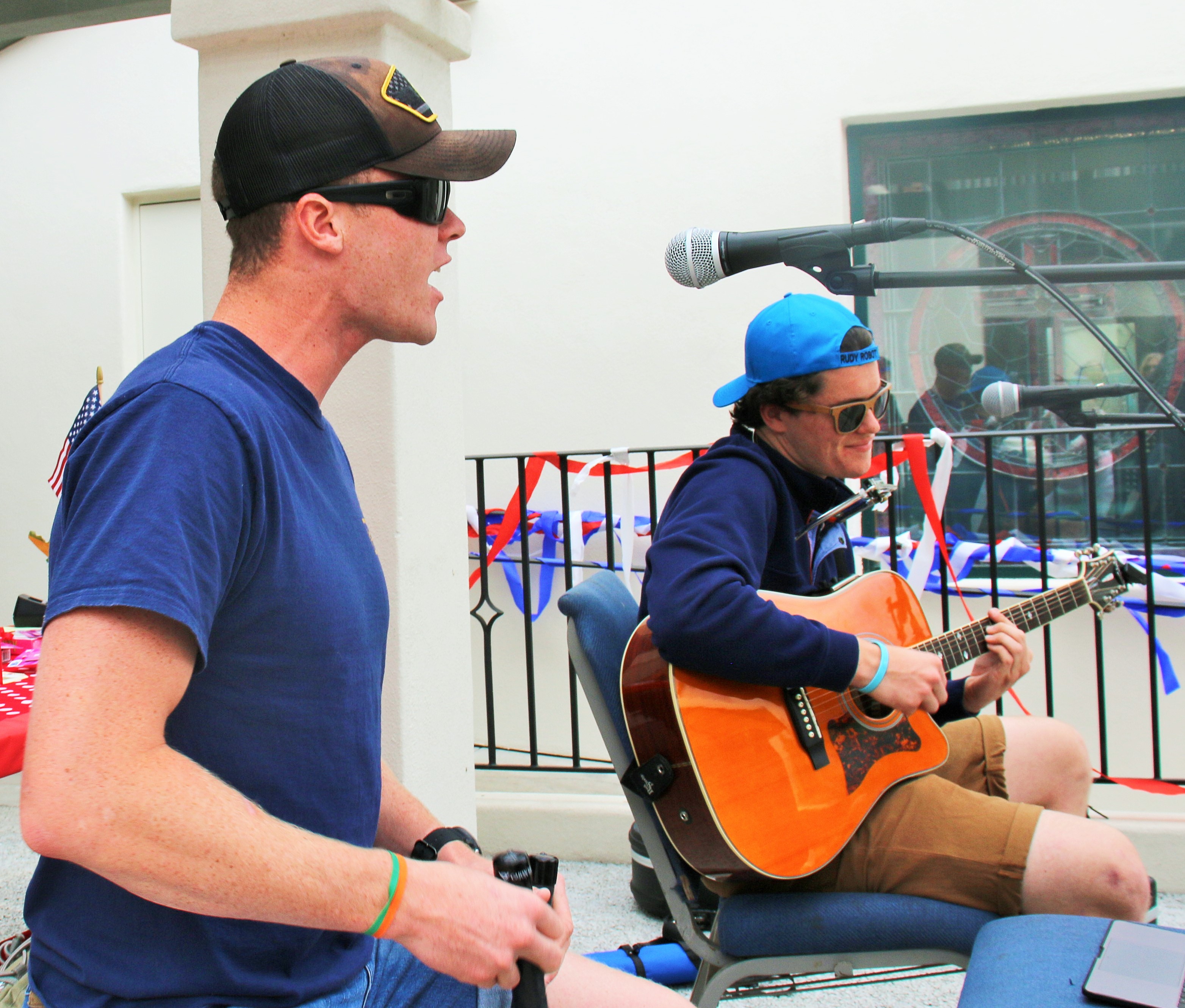 Rolf Geyline & The Geyling Brothers
Rolf Geyling, president of the Rescue Mission said "The beaches get so crowded tht our homeless neighbors who often spend their days and nights on the sand are pushed off the shoreline and left with nowhere to go. We decided 11 years ago to create a place for them to spend the holiday." The Mission is celebrating a twelve million dollar renovation of the men's and women's areas this month that will provide additional beds, including a needed seperate living space for women guests.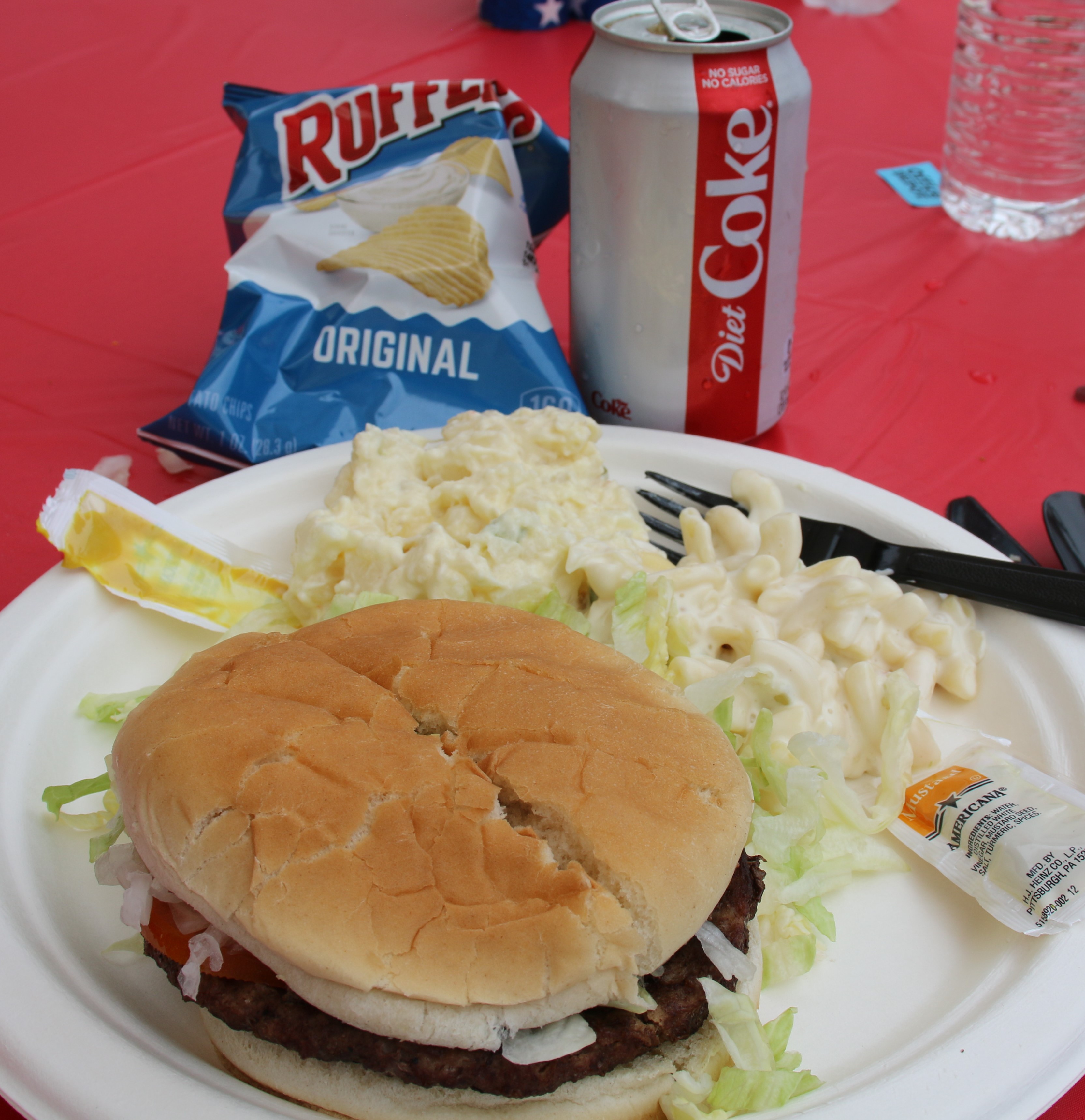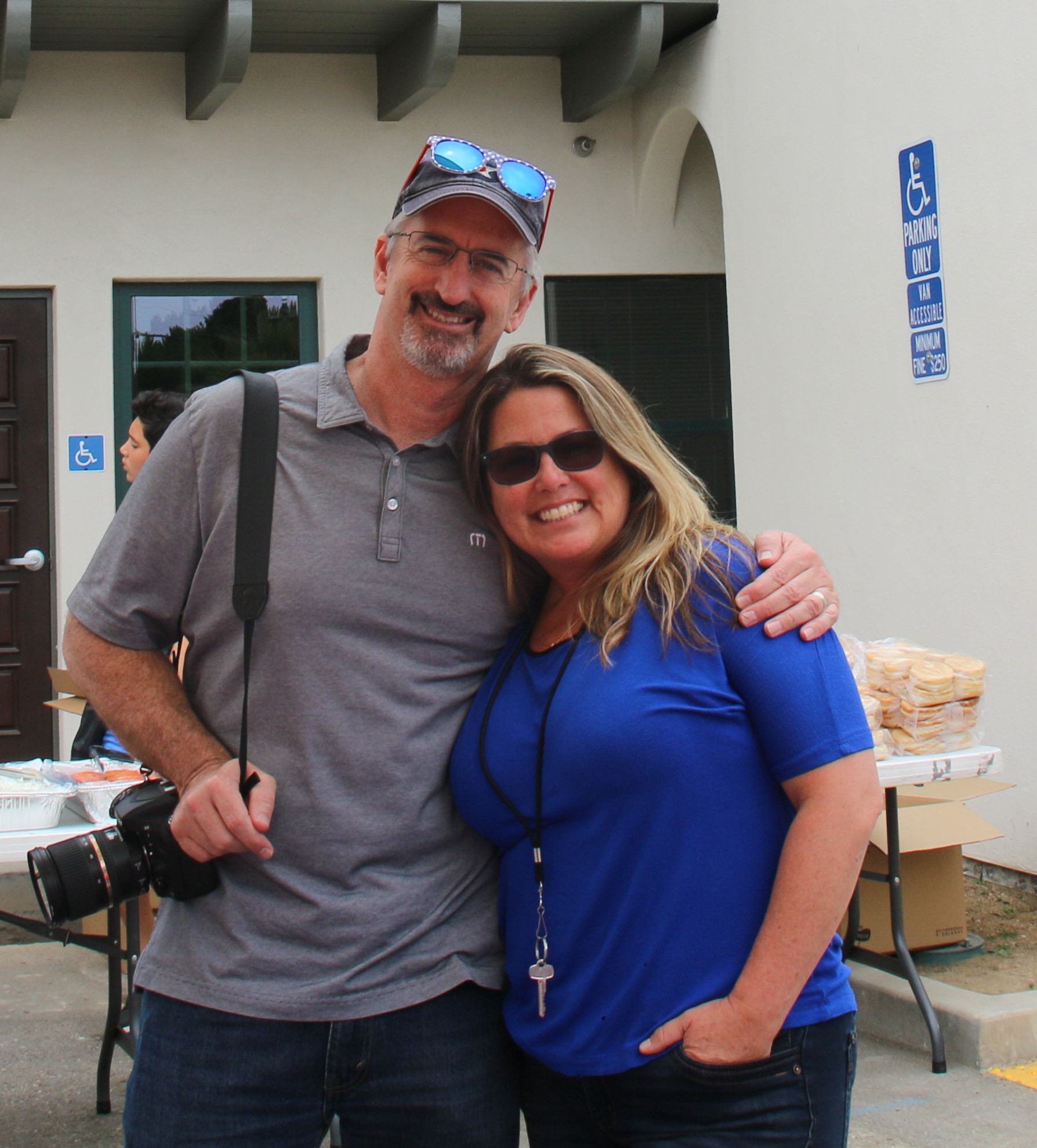 Mission Volunteers Served 4th Dinners & Assisted Guests
The Santa Barbara Rescue Mission is the only local agency providing overnight summer shelter to the homeless, along with other emergency services and life-changing recovery programs. Every year, the Rescue Mission provides over 140,000 meals and more than 45,000 safe nights of shelter for individuals with no place else to turn.
About Santa Barbara Rescue Mission
Established in 1965, this 501(c)(3) organization brings physical, emotional, educational and spiritual resources to those in need. It is the only organization between Oxnard and Santa Maria that provides hot meals and accommodations to homeless guests 365 days of the year. It operates the longest and largest drug and alcohol treatment program on California's Central Coast. The Mission offers men's and women's 12-month residential recovery, family support, relapse prevention, men's sober living, academic instruction, job skills training. Its residential drug and alcholol program has won regional and national recognition for its extraordinary effectiveness. The Santa Barbara Rescue Mission receives no government funding. For additional information visit: www.sbrm.org.
___________________________________________________________________

Ridley-Tree Cancer Center at Sansum Clinic
540 W. Pueblo Street -
Santa Barbara
,
CA
93105
---