2006 NATURAL PRODUCT EXPO WEST
Healthy Fast Foods & Kid Products Shine in Anaheim
by Bonnie Carroll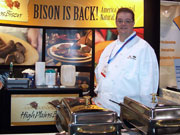 The 2006 show seemed to be three times as large as last year, and an abundance of new and improved healthy fast food items were on the menu. It appears this is a major growth industry in the healthy sector, and it was obvious by the number of new companies participating. Simply Asian and Tasty Bites were two I enjoyed. An old friend Chef Kai Dong, who recently opened his own restaurant in San Francisco, provided guests with samples of his delicious hors d'oeuvres, and visitors of the show were offered an endless variety of tastes throughout the day.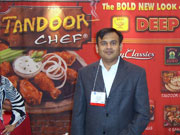 It is obvious that kid and baby products of every kind are moving off the shelves. Angel Baby, a company that makes shampoo, CDs, lotions and soaps for little angels was showcasing beautifully packaged new items, and I noticed several new lines of organic baby food. Zoë's had a great line of breakfas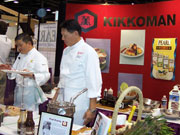 t cereals, and snack bars for kids that are delicious, and Naked Juice was serving new juice options that included smoothies and a divine blueberry beverage that is sensational. Annie's Naturals marinades and salad dressings were a big hit, as always, and the Clif Bar booth was jammed. Izze Beverages in so many flavors were the perfect thirst quencher for show attendees, as well as Fruitstorm's Crayons Fruit Drinks.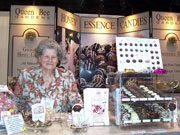 Pasta and sauces are always a favorite at the show, and this year there was a great buffalo booth that was serving buffalo stew samples. Another favorite was a charming older lady that raises bees, and makes her own Queen Bee chocolate candy using honey. The tea and coffee people were there in force, and a new taste was that of Van Houtte Café. It was a very successful show. According to show officials attendance was up, and exhibitors had increased. The press room was overflowing with press information, which has not been the case in past years, and indicates that the natural product business is really booming. The schedule of speakers and special focus groups was outstanding, and overall it was a very informative event, thanks to the hard working expo staff. Visit: www.expowest.com.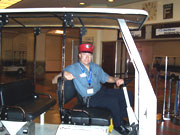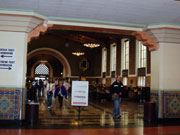 The best part of my Expo West adventure was the Amtrak Train that took me to Anaheim and returned me to Los Angeles. Parking at the station is easy and convenient, and reasonable. There were lots of families traveling on their way to Disneyland. The Union train station looks beautiful, and the friendly 'red caps' now drive passengers to and from their train car in open shuttles. Traxx restaurant has earned a fine reputation as a great place to have dinner downtown, and the service is also good. I'm sure there is still this little girl in me who loved to ride the train, and traveling on Amtrak not only brings back happy memories, but is creating new ones for me today. Visit www.amtrak.com.
---
DELICIOUS INSTANT APPLES, PEACHES AND APRICOTS!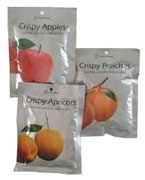 by Rose Frances
Experience totally guilt-free, healthy snacking! This is the snack of the future, and I can tell you that it tastes wonderful, is packaged beautifully, and it is perfect for travelers or people on the go--especially kids!
Crispy Green is committed to bringing consumers delicious and healthy snacks using the best natural ingredients with no artificial flavor enhancement. Crispy Fruit is a product of a sophisticated freeze-drying process where water is removed from the fresh fruit in a cold (freezing) vacuum condition, leaving behind the true essence of the fruit in a light and crispy texture. What makes Crispy Green different from other freeze-dried fruits commonly used in breakfast cereal is that they have developed the products to be used as snacks. To that end, they have carefully chosen fruits that are best suited for that purpose and use only the highest quality ingredients to produce the products.
This is a snack that is loved by children, busy executives on the go, or anyone who wants healthy food and a fast, delicious snack. Crispy Green was recently featured in the gift bags for the Beverly Hills Women's World Networking Conference, and the product received vibrant praise from the attendees.
Find out what Christina Pirello, Emmy Award-winning host of Christina Cooks has to say about Crispy Green by visiting the www.crispygreen.com website.
---
REAL TORINO PRESENTS 'DESIGNER PASTA' LINE
Colorful pasta products that make every meal a festive occasion
by Rose Frances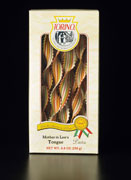 This is a colorful, and delicious new presentation that will please any chef or cook. Real Torino, Inc.'s (www.pasta.com) Designer Pasta line, a family of five innovative pasta shapes and captivating colors are sure to liven up any dinner party.
The product is hand-made in Italy, and contains no preservatives. The colors come from yellow for safron, violet from beets, green from spinach, black from squid ink, and red from tomatoes and bell peppers. Popular pasta cuts include:
Mother-In-Law's Tongue - A popular pasta cut in Italy, Mother-In-Law's Tongue is a long, twisted noodle with serrated edges. Striped with red, yellow, green and violet, this pasta will be a favorite among Torino customers during Mother's Day.
Corals - Reminiscent of the beautiful coral found on the shores of Sardinia, you can almost imagine the sound of the ocean beckoning to you as you bite into one of this one-of-a-kind pasta.
Flowers - This flower-shaped, red, green and yellow pasta blooms as it cooks, creating a perfect dish for an outdoor picnic. The flowers are the perfect cut for a light pesto sauce or a sprinkle of garlic and olive oil.
Rainbow Farfalla - Known as bow ties in the U.S., this rainbow-striped pasta is perfect for the classic Italian dish Farfalle Primavera, which mixes fresh garden vegetables in a light cream sauce.
Rainbow Farfalline - A mini version of Rainbow Farfalla, this beautiful orange-hued pasta makes for a delicious vivid, cold pasta salad on a summer picnic with the kids.
For information visit: www.pasta.com.