From the Editors of E/The Environmental Magazine
Dear EarthTalk: What's up with dishwasher detergents of late? They're clearly not working as well. I hope whatever was done is helping the environment because it's not helping my dishes.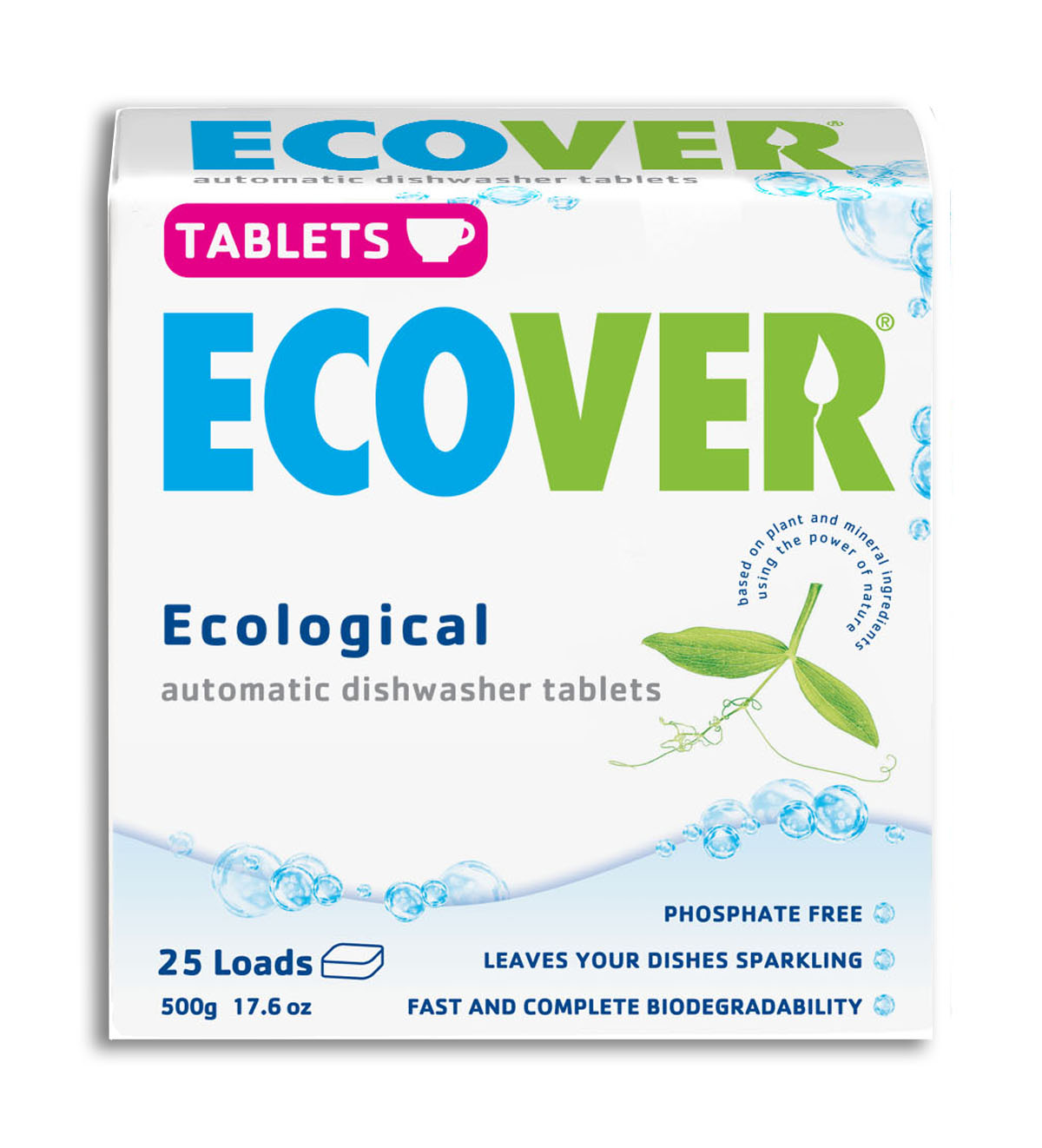 -- Sally P., Everett, WA


The main problem with phosphates, which also come from agricultural and landscaping activities, is that they get into natural water bodies and act as fertilizer, accelerating plant and algae growth. When the plants and algae die, a feeding frenzy of bacteria consume all the oxygen dissolved in the water, creating an environment inhospitable to fish and other aquatic life. These oxygen-devoid "dead zones" can occur in freshwater or in the ocean. In fact, two of the world's largest dead zones are in the Baltic Sea and the Gulf of Mexico, the result of fertilizers running off of farmland. Besides phosphates' negative effect on water bodies, their presence in the environment can also be harmful to terrestrial wildlife and can trigger skin and eye irritation and allergies, among other ill effects, in humans.

Environmentalists and others supportive of the reduction in phosphates claim that the new regulations will spare wastewater treatment systems from dealing with 10-12 percent of the phosphates previously encountered. Wastewater treatment managers in Spokane, Washington, for example, found that a local year-old ban on phosphates in dishwashing detergent there saved them from dealing with upwards of 180 pounds of phosphates—or about 10 percent of the total load—each and every day at municipal wastewater treatment facilities—saving not only money but also the other chemicals used to treat the water.

Given the shift in so many states, many manufacturers have reformulated their entire product lines for markets across the country, so even if you don't live in one of the affected states you might be getting dishwashing detergent with a lot less phosphorous as well. Consumer Reports tested 24 of the leading low-phosphate dishwasher detergents to see which ones got dishes cleanest. The top finishers were Cascade Complete All in 1 pacs (at a cost of 28 cents per load), Ecover tablets (27 cents), Finish Powerball Tabs tablets (22 cents), and Method Smarty Dish tablets (21 cents), but other brands and formulations also performed adequately if used properly.

Consumer Reports also provides tips on optimizing the performance of your dishwasher and dishwashing detergent no matter which brand you use. For starters, load large items at the sides and back of the dishwasher so they don't block water and detergent from reaching other dishes. And place the dirtier side of dishes towards the center of the machine to provide more exposure to the sprayer. Also, try to prevent dishes and utensils from nesting within one another so that the water can reach all surfaces.

CONTACT: Consumer Reports, http://blogs.consumerreports.org/home/2010/11/how-to-load-your-dishwasher-.html.
---
20 questions about aspirin and heart attack, from Harvard Men's Health Watch
BOSTON—Over the past 100 years, we have relied on aspirin to control fevers, headaches, arthritis, and pain. Now many people are using it to prevent heart attacks, thanks in part to two large, Harvard-based clinical trials. But like every drug, aspirin can cause health problems as well as solve them. It can upset the stomach and cause bleeding in the stomach or brain. That makes deciding whether to take aspirin to prevent a heart attack is something each man should do in consultation with his doctor, reports the December 2010 Harvard Men's Health Watch.
This issue of Harvard Men's Health Watch takes on 20 of the most important questions about aspirin. Here are a few examples:
How does aspirin protect the heart? The short answer is that aspirin prevents heart attacks by stopping blood platelets from sticking together and forming artery-blocking clots.
Is there any way to protect my stomach from bleeding? Yes. Low doses of aspirin appear to pose less risk for stomach bleeding than higher doses, so stick to 81 milligrams a day. It is even more important to avoid other nonsteroidal anti-inflammatory drugs (NSAIDs), such as ibuprofen, or to take the lowest effective dose for the shortest time possible, if you are also taking aspirin. Medications such as the acid-suppressing proton-pump inhibitors can prevent aspirin-induced stomach bleeding.
I am a healthy man; should I take aspirin to reduce my risk for heart attack? This is the toughest question of all. It's a matter of balancing aspirin's potential benefits against its risks. For men between the ages of 45 and 79, the respected U.S. Preventive Services Task Force recommends taking daily low-dose aspirin when the benefit (protection against heart attacks) outweighs the risks (bleeding).
Other questions covered include whether to take aspirin if you think you are having a heart attack, if men with diabetes should take aspirin, whether aspirin also protects against stroke, and if it helps to take enteric-coated aspirin.
Read the full-length article: "Aspirin and your heart: Many questions, some answers"
Also in this issue:
Combining medications to fight high blood pressure
Prostate cancer diagnosis and general health
Prostatic intraepithelial neoplasia
Harvard Men's Health Watch is available from Harvard Health Publications (www.health.harvard.edu), the publishing division of Harvard Medical School, for $28 per year. Subscribe at www.health.harvard.edu/men or by calling 877-649-9457 (toll-free).
What happened was that in July 2010 a significant reduction in the amount of phosphates allowed in automatic dishwasher detergent went into effect in Washington State. Similar regulations were implemented in 14 other states (Illinois, Indiana, Maryland, Massachusetts, Michigan, Minnesota, Montana, New Hampshire, Ohio, Pennsylvania, Utah, Vermont, Virginia, and Wisconsin) for 2009 before Oregon and Washington added their names to the list earlier this year. Previously phosphates could constitute up to 8.7 percent of dishwasher detergent; now the new regulations limit them to 0.5 percent.
---
ASK THE DOCTOR BECOMES ECONOMIC NECESSITY    
Millions of Americans Turning to AskTheDoctor.com During
                       Rough Economic Times

According to a recent survey conducted by AskTheDoctor.com with 5000 of their American users, the number of people with health insurance coverage was only 3
out of every 10.

So what does this survey tell us? Well, we know that 44 million people
in this country have no health insurance, and another 38 million have
inadequate health insurance. This means the only place they can go to
seek medical advice is on the internet. The problem is that so many
sites exist with so much information that it is hard for users to know
where to begin to get to the bottom of their problem.

In 2008, Canada based physician Dr. Suneel Sharman, saw this problem
approaching fast and along with entrepreneur Prakash Chand developed
the question and answer service AskTheDoctor.com. The philosophy behind
the website was to keep it very simple and straightforward for
visitors. AskTheDoctor.com did just that by creating a simple to use
one page form that lets users ask real questions to real doctors. The
service is completely free and all doctors are funded by advertisers of
the website.

"I've had MS for ten years. And my kind is like progressive. So I just
get worse. I really can't do anything. I don't leave my house. You
know, it's hard for me to get out. There's steps in the back. My kids,
they're young and they really help me. But it's hard for them. Since I
don't have that much money, I have to forego lots of preventative
treatments. The only direct advice I can seem to get is from the
doctors at AskTheDoctor.com. I don't know what I would do without
them," says Jennifer Rodenham, an avid AskTheDoctor.com user.

Millions of Americans like Jennifer Rodenham have no alternatives and
are turning to services like AskTheDoctor.com for any help they can
get.

More info on AskTheDoctor.com:

AskTheDoctor.com is an online source of free medical advice to anyone,
anywhere, in the world. Users submit their medical questions that will
be specific to their situation, free of cost via a simple-to-use
submission form located on the website. When a question is answered,
visitors are notified by email, and the response is posted on the
website that day. No identifying personal data is shared, thus
questions and answers remain anonymous. Depending on the nature of the
question, answers may be provided by general practitioners or
specialist.
---
---