WOLFGANG PUCK GOES GREEN
FOR HOME ENJOYMENT
by Bonnie Carroll
 
Well, a few years ago I walked into a grocery store on St. Pat's day and saw a whole freezer filled with something called Wolfgang O'Puck pizza, and I had a great laugh! But, today the renowned entrepruener/chef is providing hungry shoppers with the best in 'green' all-natural pizza in a variety of flavors.
 
More than 70 percent of American households purchase frozen pizza every year.  But as the economy begins to soften, consumers continue to look for gourmet-inspired foods to enjoy at home. This fact is proven by statistics that show the super premium pizza category, which includes Wolfgang Puck® All-Natural pizzas, is growing at an annual rate of 11.5 percent, while the entire category is growing at only 1.4 percent. With five hand-crafted varieties made with the freshest ingredients, Wolfgang Puck's All-Natural pizzas raise the bar on this freezer staple. By offering restaurant-quality, chef-inspired pizza varieties similar to those made famous at Chef Puck's Spago and Wolfgang Puck Express all can be enjoyed with family and friends in the comfort of home.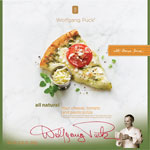 "My gourmet frozen pizzas are crafted using pizza recipes and toppings inspired by my restaurants," said master chef, Wolfgang Puck.  "I always insist on using only the freshest, all-natural ingredients. Like in my restaurants, Wolfgang Puck All-Natural pizzas start with a hand-stretched crust and are topped with the finest ingredients, now consumers can enjoy my delicious, restaurant-quality gourmet pizzas at home."
Wolfgang Puck All-Natural pizza raises the standard in the frozen pizza category by including fresh, hand-cut toppings and a simple, pure flavor sauce with real tomato taste and texture, made without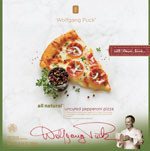 paste.  Each of the five pizza varieties combines Puck's culinary innovation with unique flavors, the finest ingredients and honey-infused, hand-stretched crusts.
Wolfgang Puck All-Natural pizza is part of an exclusive frozen foods partnership between Chef Puck's Wolfgang Puck Worldwide, Inc. (WPW), an international frozen food leader, Schwan's Consumer Brands North America, Inc.  "Spending habits are slowly changing in light of the softening economic environment.  However consumers with increasingly sophisticated palates still want high-quality, fresh ingredients in the meals the serve at home," said David Miller, director of new ventures, Schwan's Consumer Brands North America, Inc. "As families eat at home more often, the restaurant-inspired line of Wolfgang Puck All-Natural pizzas delivers the taste profile and gourmet quality consumers want."
The Wolfgang Puck line of all-natural frozen pizzas is comprised of five unique varieties, including a Margherita flavor which was named "Best Cheese Pizza" by Everyday with Rachael Ray magazine in the March 2008 issue.  The varieties include:
Four-Cheese:

  Delicious pesto sauce topped with a blend of mozzarella, fontina, Parmesan and creamy goat cheeses, along with

sliced red tomatoes and basil

Uncured Pepperoni:

Wolfgang's tomato-basil-garlic sauce topped with mozzarella and fontina cheeses, pepperoni slices and more mozzarella

Barbecue Chicken:

Seasoned chicken, red onions and tomatoes topped with mozzarella and fontina cheeses and Wolfgang's tangy barbecue sauce

Margherita: Farm-fresh tomato slices, basil, mozzarella and fontina cheeses placed atop Wolfgang's signature tomato-basil-garlic sauce, then dabbed with pesto sauce.

Cheese:

Wolfgang's signature tomato-basil-garlic sauce covered with a delectable trio of cheeses: mozzarella, fontina and parmesan, then topped with herbs
For more information on Wolfgang Puck's All-Natural pizzas visit:
www.wolfgangpuckallnatural.com

---
THE MEAT OF THE MATTER:
E Magazine on the Environmental Consequences of Livestock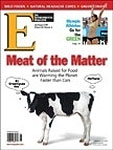 Ask most Americans about what causes global warming, and they'll point to a coal plant smokestack or a car's tailpipe. But it's two other images that should be granted similarly iconic status, says the July/August 2008 cover story of E - The Environmental Magazine (now posted at www.emagazine.com): the front and rear ends of a cow.
 
According to a little-known 2006 United Nations (UN) report called "Livestock's Long Shadow," livestock is a "major player" in climate change, accounting for 18 percent of all greenhouse gas emissions.
 
That's more than our entire transportation system.
The U.S. Department of Agriculture (USDA) reports that the American meat industry produces more than 60 million tons of waste annually -- five tons for every U.S. citizen and 130 times the volume of human waste. Michael Jacobson at the Center for Science in the Public Interest (CSPI) adds that just one mid-sized feedlot churns out half a million pounds of manure each day. And waste is just one of meat's many harmful environmental side effects.
 
Raising livestock is the single largest human-related use of land. Grazing occupies an incredible 26 percent of the ice- and water-free surface of the planet Earth. The area devoted to growing crops to feed those animals amounts to 33 percent of arable land. Meat production is a major factor in deforestation as well, and grazing now occupies 70 percent of previously forested land in the Amazon region. In Brazil, 60 to 70 percent of rain forest destruction is caused by clearing for animal pasture. Other sources of CO2 include the burning of diesel fuel to operate farm machinery, and the fossil fuels used to keep barns warm during the winter.
 
And food grown for animals could be feeding people. Raising livestock consumes 90 percent of the soy crop in the U.S., 80 percent of its corn and 70 percent of its grain. What's more, all that grazing is leaving an impact: The UN reports that 20 percent of the world's pastures and rangelands have been at least somewhat degraded through overgrazing, soil compaction and erosion. And methane (a global warming gas 23 times more potent than CO2) comes from many human sources, but livestock account for an incredible 37 percent of that total.
 
The environmental consequences of meat-based diets extend far beyond their impact on climate change. Livestock production consumes eight percent of the world's water (mainly to irrigate animal feed); causes 55 percent of land erosion and sediment; uses 37 percent of all pesticides; directly or indirectly results in 50 percent of all antibiotic use; and dumps a third of all nitrogen and phosphorous into our fresh water supplies.
 
And livestock are forcing other animals out. With species loss accelerating in a virtual "sixth extinction," livestock currently account for 20 percent of all the animal biomass on the planet.
 
The average person on the planet ate 90.3 pounds of meat in 2003, double the figure of 50 years ago. China alone now consumes half the world's pork, a fivefold increase just since 1978.
 
But vegetarian diets are rarely proposed by environmental organizations. The "meat is good and necessary for health" message is routinely reinforced through advertising and by the cultural signals we're sent at school, work and church. Vegetarianism is depicted as a fringe choice for "health faddists."
Even such an enlightened source as the 2005 Worldwatch report "Happier Meals: Rethinking the Global Meat Industry" is careful not to advocate for a vegetarian diet, including it in a range of options that also includes eating less meat, switching to pasture-raised "humane" meat, and opting for a few non-meat entrees per week. Vegetarianism is the "elephant in the room," but even in a very food-conscious age it is not easily made the centerpiece of an activist agenda.
CSPI's Jacobson argues that cutting down meat consumption should be a public health priority. "From an environmental point of view, the less beef people eat the better," he says, citing not only the release of methane from livestock but also increased risk of colon cancer and heart disease.
Offer these facts to many meat eaters, and they'll respond that they can't be healthy without meat. "Where would I get my protein?" is a common answer. But the latest medical research shows that the human body does not need meat to be healthy. Indeed, meat is high in cholesterol and saturated fat, and a balanced vegetarian diet provides all the protein needed for glowing health. Were humans "meant" to eat meat, just because our ancestors did? Nonsense, says Dr. Milton Mills, a leading vegetarian voice. "The human gastrointestinal tract features the anatomical modifications consistent with an herbivorous diet," he asserts.
With the recognition of meat's impact on the planet (and the realization that we don't need it to stay healthy), is it possible that the human diet will undergo a fundamental change? The fact that the cornerstone of the American diet aids and abets climate change is an "inconvenient truth" that many of us don't want to face, says Joseph Connelly, publisher the San Francisco-based VegNews Magazine. He takes a dig at Al Gore for not mentioning meat-based diets in his film and only dealing with them glancingly in his book, An Inconvenient Truth, and not at all in the film.
A 2003 Harris Poll said that between four and 10 percent of the American people identify themselves as vegetarians. So far, Connelly says that number seems to be holding steady. "From a sustainability point of view, what's really needed is for people to understand the connections between factory farming, meat eating and environmental impacts," he says. "That's the first step."
---
THE ORGANIC CENTER RELEASES
"ORGANIC ESSENTIALS" POCKET GUIDE
FOR MINIMIZING PESTICIDE DIETARY RISKS
Guide Helps Consumers Prioritize Organic Fruit and Vegetable Purchases; Download for Free at www.organic-center.org
Do you know that the greatest risks from pesticides in the diet come from eating conventionally produced fruits and vegetables? A new complimentary pocket guide can help consumers avoid the highest-risk fresh produce during both the summer season and winter, when a significant share of fresh produce is imported.
Available for free download at The Organic Center's Web site, www.organic-center.org, the "Organic Essentials" pocket guide presents lists of conventional fruits and vegetables that the Center has determined pose the most significant pesticide-related risks and, therefore, are the most critical produce items for consumers to purchase as organic.
In the wallet-sized four-fold guide, "Organic Essentials" offers two lists covering domestically grown fruits and vegetables that pose the greatest pesticide dietary risks, while two other lists apply to imported produce that typically enters the U.S. market in the wintertime.
In 1993 the National Academy of Sciences (NAS) released a widely acclaimed report entitled Pesticides in the Diets of Infants and Children. The report set forth a compelling case to protect infants and children from developmental problems triggered by pesticide exposures. Unfortunately, the reforms recommended by the NAS have been just partially implemented by the Environmental Protection Agency. As a result, there have been only modest changes in the uses of several risky pesticides in conventional farming over the last 15 years.
"Consumers eagerly want to know more about the healthful benefits of organic food and farming. Too often, in the bustle of the grocery aisles, they don't have the time or the information to make the most appropriate purchases," said Dr. Chuck Benbrook, Ph.D., chief scientist with The Organic Center. "We hope consumers will download the guide and put it in their wallets so they will have at their fingertips information on the most important organic produce to buy to reduce pesticide risks to themselves and their families."
The pocket guide presents pesticide risk rankings for several key fruits and vegetables and is based on The Organic Center's March 2008 report, Simplifying the Pesticide Risk Equation: The Organic Option. The following fruits and vegetables present the highest risk:
Domestically Grown Conventional Fruits
1.  Cranberries
2.  Nectarines
3.  Peaches
4.  Strawberries
5.  Pears
Domestically Grown Conventional Vegetables
1.  Green beans
2.  Sweet bell peppers
3.  Celery
4.  Cucumbers
5.  Potatoes
Imported Conventional Fruits
1.  Grapes
2.  Nectarines
3.  Peaches
4.  Pears
5.  Strawberries
Imported Conventional Vegetables
1.  Sweet bell peppers
2.  Lettuce
3.  Cucumbers
4.  Celery
5.  Tomatoes
The non-profit Organic Center (organic-center.org) generates and advances peer-reviewed scientific research and information on the health and environmental benefits of organic food and farming. Recent Center reports have highlighted options to essentially eliminate the risks associated with the use of toxic synthetic pesticides in commercial food production. All reports and a free monthly newsletter, The Scoop, are available at no cost at www.organic-center.org.
---
MAYA RAINFOREST WELLNESS RETREAT PACKAGE
Launched at the Lodge at Chaa Creek, Belize
The Lodge at Chaa Creek, an international award-winning eco-resort in the western highlands of Belize, presents a new Rainforest Wellness Retreat package to ensure that the healing and healthy aspects of this pristine eco-system are integrated at a deep, personal level. The multi-day package incorporates eco-adventure, jungle spa treatments, guided-naturalist experiences, Maya rituals, organic food, and luxurious accommodations in a tranquil, rainforest atmosphere that promotes well being.
Located within a 365-acre private nature reserve along the verdant banks of the Macal River, where over 70 ancient Maya archaeological sites have been discovered, Chaa Creek connects the mysteries of the past with the present. It is a landscape that radiates the spiritual harmony of the ancients and is a hotspot of biodiversity that could include sightings of rarities such as ocelots, kinkajous, and Keel-billed Toucans. The package is designed as a mind, body and spirit intensive that takes guests to new levels of core inner health and strength.
One of the retreat highlights is a trail ride on horseback to the onsite Maya ceremonial temple, Tunchilen.  Here, guests will learn of the history of this site, and the Maya who occupied this area in 950 AD. Also on property is the Rainforest Medicine Trail, conceived by Dr. Rosita Arvigo and featuring a variety of herbs, plants, flowers and trees used by native Shamans to treat and heal villagers. At the resort's Blue Morpho Butterfly Farm, a naturalist will explain the stages of development for these rare and beautiful butterflies, which are released into the rainforest on a daily basis.
The Rainforest Wellness Retreat package includes luxurious treatments at the spa, which is decorated daily with exotic Torch Ginger, Heliconias and Birds of Paradise, plus intricate mosaic designs of fresh flower petals. Some treatments here use locally-made, hand-pressed aromatic oils infused with lemongrass or ylang-ylang. Maya chocolate is also incorporated into a number of treatments, from the Chocolate Fondue Wrap to the Cocoa Massage, Maya Chocolate Polish and Lovers Peppermint Chocolate Pedicure. The package includes a facial, body wrap, massage, manicure and pedicure. Guests can book outdoor massages in a thatched palapa overlooking the Macal River Valley, and be soothed by the ever-present sounds of the tropical rainforest. Private yoga lessons are also available on request.
In addition to spa treatments, guests will enjoy such guided jungle experiences as a sunset canoe ride on the Macal River, morning bird walks, nighttime safaris, horseback riding and mountain biking on miles of forested trails within the reserve.
Healthy cuisine is ensured at Chaa Creek by the on-property organic Maya farm where vine-ripened produce is harvested daily. The open air, thatched roof restaurant serves Caribbean, Mexican and Belizean specialties. Always available at the hotel is homemade Flor de Jamaica ice tea, flavorful and full of antioxidants. The chef will be happy to design a menu that caters to personal dietary requests for the breakfast and dinner options available with the package. 
This wildly civilized resort offers accommodations in one of 23 thatched-roof, whitewashed cottage accommodations set above the river or in rainforest gardens, appearing like a cross between the Cotswold's in England and the tropics. Each artisan-made cottage is unique, offering an assemblage of outdoor showers in walled gardens, Jacuzzis built into the verandahs, treetop canopy views and charming individual spaces.  All are all furnished with custom mahogany furniture by local woodworkers, hand-loomed bedcovers and rugs, original artwork, native pottery and carvings. Upgrades are available to the new spa villa, which offers two bedrooms, a kitchen, separate spa treatment room and a Jacuzzi on the verandah.
This Rainforest Wellness Retreat is offered for 4 – 7 nights starting at $1,294 per person. The package may be combined with a stay at one of the Lodge's island or coastal partners in Belize through the Reef and Rainforest packages. See www.chaacreek.com or call 877-709-8708 for more information.
---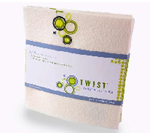 BAMBOO CLOTH #35
TWIST, a natural and eco-friendly household cleaning products company, introduces its newest offering, the Bamboo Cloth #35.  The first of its kind, the Bamboo Cloth #35 is a 100% biodegradable chamois made from 82% bamboo and 18% corn.
"We are thrilled to introduce the newest addition to the TWIST family of eco-friendly products," said Brian Ross, TWIST's co-founder and CEO. "The Bamboo Cloth is a unique twist on the conventional chamois - it's great for dusting and polishing.  Given that we are the only 100% biodegradable chamois available, we are hopeful that customers will embrace our newest product and, in the process, help protect our planet."
The new Bamboo Cloth #35 (SRP $3.99/3-pk) joins the existing TWIST family of products. Visit: www.twistclean.com
---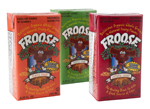 INTRODUCING FROOSE
a unique and patented whole food beverage that makes a delicious and nutritious alternative to juice.
Developed by Cornell researchers with mom and food executive, Denise Devine, the Froose process is a patented new way to combine organic whole grains and fruit to create a juice that is naturally low in sugar and a good source of fiber. It's made with organic brown rice, yet tastes great to kids in such yummy flavors as Playful Peach, Perfect Pear, and Cheerful Cherry. Kids will think they're drinking the same old sugary juice - but yet it's completely organic, nutritious, low in sugar, and provides the fiber, vitamins and complex carbohydrates for bone and muscle growth. www.froose.com
---