KING TUT FOR KIDS
by Cody Chandler Hilton

LACMA, the Los Angeles County Museum of Art has a show of the gold statues and things that came from the tomb of King Tut, who was very young when he died. Everything is really beautiful, and they show how they found his underground burial place, and they tell the story of the families who ruled in Egypt. It is very interesting.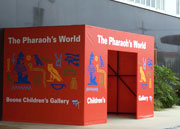 The best part was The Pharaoh's World, a special place where kids can dig in the sand for artifacts, a reading cubicle with stories about Egypt, pictures of Tut that can be colored, a big wall with hieroglyphics to draw on, and computers with good information to learn. I liked writing a message on the scarab papers, and playing an Egyptian game. There is a mummy table that shows how the mummy is wrapped for burial.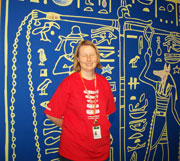 A nice lady named Karen Satzman was assisting the kids and their parents. There were lots of families having fun in this place made especially for kids. For information go to www.kingtut.org.
---
KING TUT CHALK DRAWING AT THE MISSION
by Cody Chandler Hilton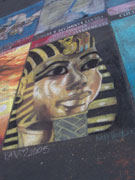 Artist come to the Santa Barbara Mission from all over to try to win a prize for their chalk drawings. Adults and children come and draw really great paintings on the cement in front of the Mission. There was a King Tut drawing that was so good, and a 15 year old girl painted a beautiful Hawaiian lady. I hope you like these photos, and thank you for reading Kid's Kaleidoscope.