December 2007

KIDS KALEIDOSCOPE
by Cody Chandler Hilton
55th ANNUAL DOWNTOWN SANTA BARBARA HOLIDAY PARADE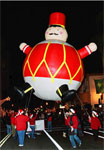 On December 7th at 6:30 on State Street in Santa Barbara the fun will begin. The street will be filled with smiling kids and their parents to celebrate Sea Shells and Sleigh Bells at the 55th Annual Holiday Parade. Marching bands, great floats and huge helium balloons will travel from Sola Street to Cota Street, and candy giveaways will be offered to everyone.

Kids from around the country participate, including marching bands from other states. Children who were in a writing contest and the winners of the contest will carry banners and light the tree. I have enjoyed this night since I was very small, and I am looking forward to working as a volunteer monitor along the route where Santa Claus will arrive and the Christmas tree will be lit.

The Downtown Organization puts this parade together, and all the area business people help them. Macy's, Chipotle, Lucky Kid, local newspapers and others assist in making it a great holiday event for kids. Over fifty-thousand people usually attend. For information visit: www.downtownsantabarbara.com.
Thanks for reading Kids Kaleidoscope and have a Happy Holiday Season

---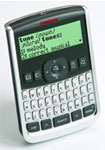 Holiday Gift Idea
This is a great new product from Franklin that can make someone you like happy.
For prices visit www.franklin.com