EVERYBODY WANTS TO BE IRISH ON ST. PAT'S
by Cody Chandler Hilton

St. Patrick's at the Grove was fun this year. We had corned beef and cabbage with potatoes from Mc Gee's Corned Beef, and sat with some fun people named Hall who are from the family who started the restaurant a long time ago. Mrs. McGee and the people working there were all wearing Irish hats, and having a good time. The Grove has Irish music and dancing on St. Pat's Day, and there is a great place for pie to enjoy for dessert.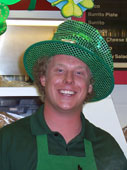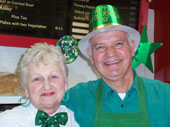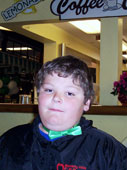 ---
21st ANNUAL LA MARATHON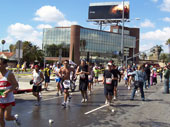 It was really exciting to see the runners come by at the LA Marathon. A group of volunteers from the Amie Karen Cancer Foundation were there to give out water, and I helped too. Those people really looked tired, and we were only at the 18 mile stop. They were running to raise money for our charity and other needy people. We all got a little wet, but it was a good feeling to be able to help. Christine Redlin, a friend of our family, who is on the board of directors was teaching me the tricks to get the water into the runners hands as they went by. I would do this again, it is a good thing for us all to do.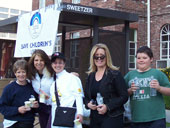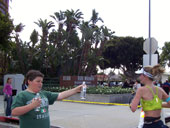 Thanks for reading Kids Kaleidoscope, and I hope to see you next month!