KIDS KALEIDOSCOPE
by Cody Chandler Hilton
Annie's Products
At Annie's Homegrown they are proud to sell delicious food and fun stuff for kids! You can see all the information about the products, including ingredients, nutritional information, and descriptions. Annie makes really great food that is healthy and tastes great too!
You can purchase any of these products, click on the links below to buy securely online using any major credit card, or look for a store near you that sells Annie's.
| | | | |
| --- | --- | --- | --- |
| | | | |
| Totally Natural Macaroni and Cheese | Certified Organic Mac and Cheese | Cheddar Bunnies | New! Bunny Grahams |
| | | | |
| | | | |
| Deluxe Max & Cheese | Simple Organic Skillet Meals | Totally Natural Pasta Meals | Certified Organic Canned Meals |

Annie's has some funreading recommendations in the Book Club and activitiy ideas for kids that are great. Visit: www.Annies.com
---

This company has a new Soymilk drink that is really good tasting. They have chocolate Soymilk that is good also. This Odwalla Soymilk, is a soy, not to mention a joy, unlike any other soymilk. With a delicate combination of organic soybeans, the soluble fiber inulin and the amazing Omega-3 DHA, our soymilk has been formulated with important nutrients essential to your well-being. The soluble fiber inulin promotes the healthy growth of the beneficial bacteria that helps support a balanced digestive system. And did you know that DHA is the most abundant Omega-3 in the brain? Although fish is the major dietary source of DHA, the 32mg per serving of DHA in Odwalla Soymilk is from a vegetarian source and an efficient way to provide DHA to your body. Odwalla Soymilk may have been formulated with your health in mind, but it has a flavor so fresh and so luscious, your taste buds are unlikely to forget it.

Omega-3 DHA is an important brain nutrient
---
GIRL SCOUT COOKIE PROGRAM TURNS 90
Tradition Evolved From Local Service Project in Oklahoma - To Top Business and Economic Literacy Program for Girls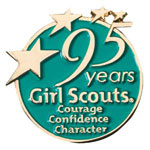 The Girl Scout Cookie Program is celebrating its 90th anniversary season in 2007, having evolved from a local event in Oklahoma in 1917 to a leading business and economic literacy program run by and for girls today.
"The millions of Americans who support the Girl Scout Cookie Program are helping girls across the country build important leadership skills," says Kathy Cloninger, CEO of Girl Scouts of the USA. "Through cookie activities, girls learn how to plan, build teams, speak up, make decisions, solve problems and manage resources. These skills add up, so that ultimately, girls learn to be leaders – in their own lives – and in our communities."
A Leading Business and Economic Literacy Program
Americans purchase approximately 200 million boxes of Girl Scout cookies each year. To achieve this extraordinary level of accomplishment, girls use 21st century business skills. Many design business cards, presentations, newsletters, press kits, charts and posters to support their cookie program goals. Others make formal presentations to close cookie sales with local businesses, such as banks and local retailers. In some parts of the country local businesswomen also mentor girls about business and marketing skills as part of the Girl Scout Cookie Program.
All participating girls build basic business and economic literacy skills. From making change to tracking revenues, girls practice the basics of money management and learn how to earn what they spend and stay on budget. And unlike many youth programs, the Girl Scout Cookie Program empowers girls themselves to decide how to spend part of the proceeds.
A Proud Legacy
The Girl Scout Cookie Program launched in 1917 in Muskogee, Oklahoma, where the Mistletoe Troop baked and sold cookies in its high school cafeteria as a service project. In 1922, The American Girl magazine published by Girl Scout national headquarters featured a cookie recipe together with estimated costs and suggested pricing. In 1936, Girl Scouts of the USA began licensing a commercial baker, and in 1937 more than 125 Girl Scout councils took part in the cookie program. Thin Mints – the most popular Girl Scout cookie variety – made its debut in 1951 as "Chocolate Mints."
Since our inception in 1912, Girl Scouting has advocated healthy and balanced lifestyles. In the early 1990s, Girl Scouts added low-fat and sugar-free cookie varieties. For the 2006-2007 season, Girl Scouts is proud to announce that all varieties of Girl Scout cookies are now zero trans fat per serving. In keeping with this commitment to healthy living, Girl Scouts encourages moderation with any food item, including Girl Scout cookies, as the key to a balanced diet.
Leadership Development for Girls
The Girl Scout Cookie Program has contributed to a tradition of leadership among Girl Scout alumnae. Research conducted by the Girl Scout Research Institute and Louis Harris in 1999 shows that 66 percent of women of professional achievement were Girl Scouts at some point in their youth, compared with 41 percent of American women overall. In addition, Louis Harris research shows that 82 percent of high-achieving Girl Scout alumnae believe that Girl Scouting influenced their success.
As Girl Scouting celebrates its 95th anniversary in 2007, the iconic organization is undergoing a historic transformation that features a renewed commitment to develop leadership skills based on the values of the Girl Scout Promise and Law. This leadership philosophy is captured by the new Girl Scout mission statement: to "build girls of courage, confidence and character who make the world a better place." The transformation also intends to revitalize the Girl Scout brand, create new fundraising models, improve volunteer systems, and significantly realign the national Girl Scout council infrastructure
About Girl Scouts:
Founded in 1912, Girl Scouts of the USA is the preeminent leadership development organization for girls with 3.7 million girl and adult members worldwide. Girl Scouting is the leading authority on girls' healthy development, and builds girls of courage, confidence and character, who make the world a better place. The organization serves girls in every corner of the United States, including Puerto Rico and the Virgin Islands, as well as destinations abroad. For more information on how to join, volunteer, reconnect or donate to Girl Scouts, call (800) GSUSA 4 U [(800) 478-7248] or visit www.girlscouts.org. To learn more about the Girl Scout Cookie Program, visit www.girlscouts.org.