KIDS KALEIDOSCOPE
by Cody Chandler Hilton
LEGO BATMAN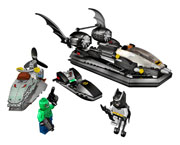 The Batman LEGO toy features all of the Batman Villains in the show. It also features Batman's all time nemesis Joker. Kids all over will love this toy LEGO made. Batman is one of the better toys I have tried. So, if you're near any place that sells LEGO toys pick one up. This toy is for kids ages 7 and older. Visit: www.lego.com.
LUCKY STRIKE BOWLING
The Lucky Strike Bowling Alley is a historic place in Hollywood, where families can go bowling together and have lots of fun. You choose your own bowling ball to play with, and a light ball is recommended for kids, they also rent bowling shoes. While you are waiting to get your lane you can play pool or pinball and when you are paged by the electronic device they give you, you go to your assigned lane to begin. You can play with bumpers or no bumpers; they keep you from getting gutter balls. For kids it is a good idea to get the bumpers until they learn to bowl well. You can order snacks and drinks while you are playing. It's a sure way to have fun!
Thank you for reading kids Kaleidoscope by Cody Hilton
---
GREAT KID'S STUFF with CHEF HARRY
by Bonnie Carroll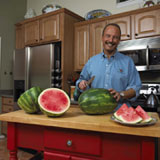 One of my favorite food celebrities Chef Harry Schwartz will once again be working with the National Watermelon Promotion Board to take a tour around the country in his special watermelon-themed bus, the Watermelon Express, making personal appearances and spreading the word about delicious and nutritious value of watermelon. He will share great watermelon recipes with people he meets along the way.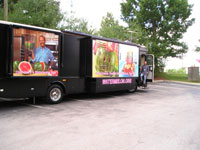 Chef Harry has written a great book: Fit Foundation: A Guide to Help Achieve Good Health for America's Overweight Youth. Harry Schwartz was an overweight kid himself, and is devoted to helping kids avoid obesity and low self-esteem by helping them learn how to eat right. Harry will be doing a book tour to promote his new book dedicated to helping children change their lives forever.
For more information visit www.watermelon.org.
Recipe: Watermelon Banana Split
---
PLANNING NOW FOR SUMMER VACATION?
NWF Family Summit Brings Nature and Families Together

Spring Break will soon be over and thoughts are turning to summer vacation planning. Imagine a week of summer vacation, focused on the sights and sounds of nature, where everything is planned for everyone in the family no matter what age. Imagine exciting activities and adventures for the entire family, all interest levels, attention spans, level of outdoor experience, or familiarity with Mother Nature. This is the National Wildlife Federation Family Summit, which makes a week of environmental education and adventure available for just $215 to $500 per person for the week, depending on the age group. Accommodations start at $250 per person for the week, including three meals a day! Kids under 6 stay free. Snowbird resort, nestled deep in Little Cottonwood Canyon in the Wasatch Range of the Rocky Mountains, will host the National Wildlife Federation's (NWF) 2006 Family Summit from July 1 -- July 7. This mountain retreat is just 45 minutes from the Salt Lake City Airport and is an ideal hub of outdoor exploration and wildlife viewing. Elk, mule deer, bighorn sheep, coyotes, cougars, eagles, hawks and scores of smaller animals delight wildlife-watchers of all ages.
More information and the program registration form for the Summit can be found on NWF's web site at: www.nwf.org/summits, or by calling 1-800-580-5685. Book now because this popular program fills up quickly!