KIDS KALEIDOSCOPE
by Cody Chandler Hilton
SUMMER ADVENTURE RECOMMENDATION
A great place to see the world of the sea is at the aquarium in Monterey, California.
Monterey Bay Aquarium
886 Cannery Row
Monterey, CA 93940
Regular Hours
10:00 a.m. - 6:00 p.m.
Summer & Holidays
9:30 a.m. - 6:00 p.m.
Open every day except Dec. 25
24 Hr. Info Line
(831) 648-4888
Main Number
(831) 648-4800
Aquarium Adventure Programs for Children and Teens
Aquarium Detectives
Have you ever wondered what it's like in the aquarium in those quiet hours in the morning? It's a mystery! You and your family will discover what goes on before the aquarium opens. You'll even get a chance to serve breakfast to a few of our critters.
When: Most Saturdays, 9 a.m. (8:30 a.m. May 27-Sept. 2)
60 minutes, (call for exact dates)
Ages: 3 thru 9
Fee: $20 general/$16 aquarium members;
(aquarium admission not included)
Children must be accompanied by a paying adult.
Pre-registration required
Underwater Explorers
Underwater Explorers gives kids ages 8 to 13 the chance to surface SCUBA dive with our staff in the Great Tide Pool. Meet the critters under water as part of your summer visit experience. No SCUBA experience required, but kids must have basic swimming skills.
When: Daily, June 17-Sept. 4, 10:00 a.m., 11:30 a.m., 2:30 p.m., 4:00 p.m.
Ages: 8 thru 13; maximum 12 children with 4 instructors
Fee: $79 general/$59 for aquarium members;
(aquarium admission not included)
Youth Group Seashore Sleepovers
We're offering an opportunity for youth groups to have a great overnight experience at the aquarium. It's a chance to explore the aquarium after hours, and then bed down to sleep beside our world-class exhibits. Throughout the evening, we'll offer a variety of activities led by our staff.
When: August 25, November 17, December 29
Age: Youth groups with children ages 6-14, one adult chaperone (21 years or older) required for every five youth campers
Fee: $50 per person (including adults)
For reservations & information see www.montereybayaquarium.org.
---
"Little Treasures" Gives Kids Special Treatment
at Mexico's Newest Hotel Chain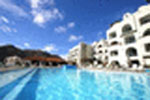 The youngest visitors to Mexico's newest hospitality brand will have plenty to brag about when they return from sunny tropical vacations at any of Tesoro's three Pacific Coast properties, where new kid-oriented "Little Treasures" services ensure they get plenty of pampering.
Beginning in June, kids aged four to 12 years will receive a special check-in gift bag, filled with fun kid stuff, and experience at Tesoro Los Cabos, Tesoro Manzanillo and Tesoro Ixtapa: they will sign in at kid-friendly counters at reception complete with plastic "booster" stairs for smaller tykes to climb up to fill in their own registration cards.
The Corsarios Kids Club features supervised games and activities run by trained counselors that keep children active, and weekly supervised "movie nights" that give parents an extra evening off. G-rated films appropriate to the age group of the children will play and fresh popcorn, soda and movie snacks will recreate an authentic cinematic atmosphere.

ABOUT TESORO RESORTS
The new resort chain, Tesoro Resorts, launched in 2006 with three all-inclusive Mexico properties in Los Cabos, Manzanillo and Ixtapa (former Costa Real Pacific hotels) emphasizing extraordinary value, striking surroundings and 'treasured moments' with family, friends and loved ones. Steadfast Resorts International (SRI) is a privately owned resort management consortium headquartered in Newport Beach, California. For more information or reservations at Tesoro Resorts, visit www.TesoroResorts.com or call 1-866-99TESORO.