Cooking With Suzanne Tracht & Preech Narkthong at JAR
by Cody Chandler Hilton

The kids cooking class at JAR, on Beverly Boulevard in Los Angeles, was held in the chefs kitchen. There were 15 kids in the kitchen, and half of them were boys who wanted to learn how to make the Caesar salad, with butter croutons, grilled ham & gruyere sandwiches, spaghetti with meatballs and sauce, and Jar's signature chocolate pudding and whipped cream.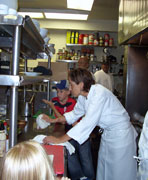 We had to wash our hands and then put on rubber gloves to keep everything we touched germ free. The first recipe was Caesar salad, and we learned how to break the Romaine hearts and lettuce to put in the silver bowl. We smashed the garlic and anchovy using a mortar and pestle, and added mustard and egg yolk to make a smooth sauce. We all learned how to break an egg. Then we squeezed lemon juice in a special juicer, and added the Worcestershire sauce and Tabasco together. A whisk is used to stir in the salad oil and olive oil. We added some Parmesan cheese, pepper and a few more drops of lemon from small slices. The chef said to taste the dressing before adding salt because the anchovies and Parmesan have lots of salt in them. She said to use a piece of lettuce to test it. Then we tossed the lettuce with the dressing and put it on the plates with the homemade croutons.
I really like the grilled cheese sandwiches. The ham and Swiss type cheese was grilled, and the bread was crispy and delicious. We all helped build the sandwiches. Chef said this is good with a pickle and some potato chips.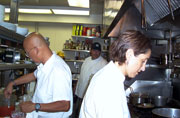 Everyone liked Chef Narkthong's lesson on making meatballs. He was really fun to listen to and the meatballs were so good. The sauce for the spaghetti was made with canned tomatoes. Chef said he did not know why, but canned tomatoes made the best sauce. The recipe had a fennel bulb, chopped, a shallot, which chef said was a type of onion, chopped garlic, Italian parsley, Tabasco sauce, Worcestershire sauce, catsup and salt and pepper. Chef Tracht showed us how to cut the skin off the garlic bulbs and smash them with a knife. Chef Narkthong said pork is needed for the meatballs to keep them moist. Our finished meal was very delicious, and was served with an Italian roll.
The chocolate pudding was really fun. It was made with special chocolate, and topped with handmade whipped cream. This recipe is a signature recipe at JAR, that means the chef is known for this dish. It has Kalhua, butter, dark chocolate, milk, cream, sugar, cocoa powder, cornstarch, 2 eggs and 4 yolks in it, and the mixture is strained through a chinois that keeps it smooth. This pudding has to be cooked slowly so the milk does not curdle and the eggs do not scramble. It is served with whipped cream and it is great.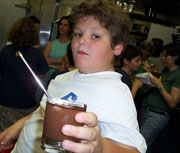 This was a fun way to learn about food, and the parents had a good time too. The kids in the class said they would try to make the recipes at home. It did get a bit hot in that kitchen, but we did not mind. Each child in the group was given a certificate of completion from Chefs Tracht and Narkthong to take home and remember the good food at JAR. Many of the adults at the class said they liked to eat dinner at JAR, and if you would like to taste some wonderful recipes call 323-655-6566.
Thanks for reading this kids cooking story, thank you to the chefs and staff at JAR, and please look for Kids Kaleidoscope next month.
Recipe: