November 2007
KIDS KALEIDOSCOPE
by Cody Chandler Hilton
THE SANTA BARBARA ART FESTIVAL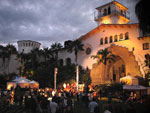 The Santa Barbara Art Festival is full of fun things to do for kids and adults. They have a place where kids can paint and do art projects, and the whole sunken garden of City Hall is filled with paintings and jewelry made by local artists. Everyone sits around and listens to music by groups that include jazz, and other local musicians. This year they had several great dance groups who did demonstrations. There were tango dancers and also a belly dancer.
The food included BBQ and healthy food from Le Bon. They also had ice cream and soft drinks, and wine for adults. In front of the City Hall there were huge colored animals, including a dragon. At night they had musical entertainment and people came to have dinner while the show was going on. This is a fun family event, and it is put on by the Santa Barbara Rotary Club.
Thanks for reading my column, and I hope you log on next month.
---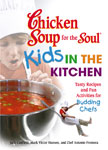 CHICKEN SOUP FOR KIDS IN THE KITCHEN
A Great Holiday Book for Kids in the Kitchen
by Jack Canfield, Mark Victor Hansen and Chef Antonio Frontera.
For information visit: Amazon.com.


---
NATURAL CANDY STORE OFFERS KIDS A HEALTHY ALTERNATIVE.
Visit: www.naturalcandystore.com
Halloween Goody Bag
Give them candy you can feel good about! Perfect for parties or a special treat.

Trick or Treat Candy
80 pieces of wrapped candy. Natural, organic, vegan, and gluten-free options.

Natural Gum
The only all-natural gum. Made with chicle from Central American rainforests.

Natural Gummy Bears
When your teddy bears have a picnic they can bring all natural gummy bears!

Super Marshmallows
All-natural marshmallows in a convenient, reusable pail.

Original Sun Drops
The natural alternative to M&Ms for Halloween. In plain or peanut.
---
Can Do Kid was created by moms to meet their active kids'
on-the-go nutrition needs!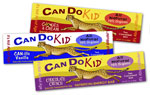 Can Do Kid, Inc. founder, Deb Luster, is no stranger to kid-friendly natural food companies - she served as President for Annie's Homegrown from 1991-1997 and left the food industry to have three of her own kids!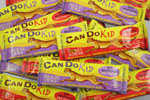 As a California mother of three small children, ages, 5, 8, and 9, Deborah states, "We developed the bar out of necessity. As a mom on the go, I need a healthy snack my children will eat. While an apple or carrots are my first snack choice, my kids won't always eat them and instead reach for candy, cookies, chips or other energy depleting snacks. The Can Do Kid nutrition/energy bar gives kids a nutritious energy- enhancing alternative that tastes great!" Visit: www.jamacandokid.com