Friday, September 8
_________________________________________________________
TINSLE TOWN TIDBITS   .   .   .
Santa Barbara Celebrated Upcoming Symphony Season
Music & Artistic Director Nir Kabaretti & Team shared a preview of the 2023-24 season
 By Bonnie Carroll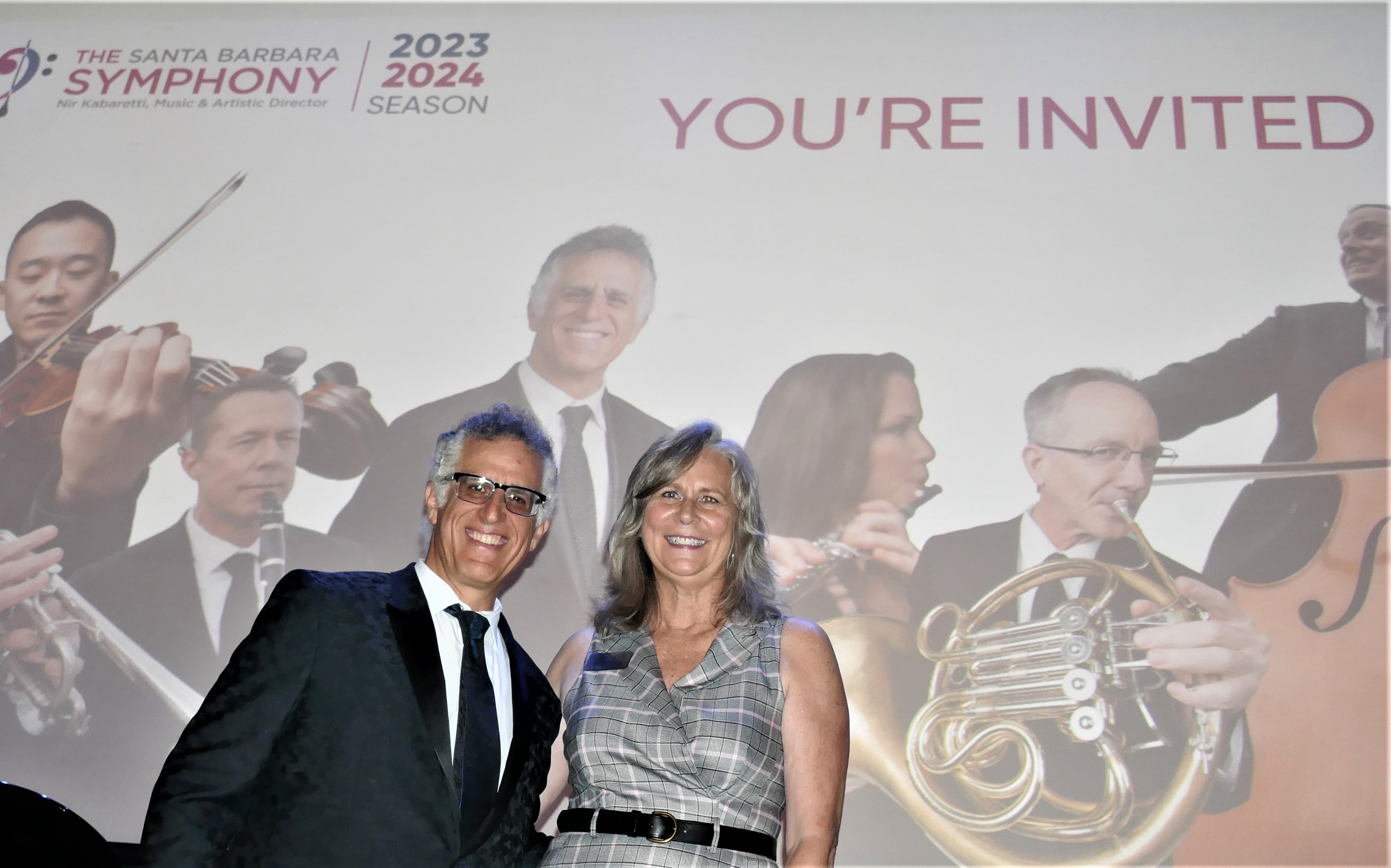 Conductor Nir Kabaretti & Katherine Martin SB Symphony CEO Welcome Guests to the 2023-24 Season

The Santa Barbara community attended a FREE Season Preview event on Thursday, September 7 at the Lobero Theatre with a welcome reception on the promenade at 4:30 p.m. and the program began at 5:00 p.m. The huge crowd attending shared they loved the preview of the upcoming 2023-24 season, and thoroughly enjoyed musical performances and behind-the-scenes conversations with the Symphony's artistic team and renowned guest performers.
Guests for the free community event filled the steps of the historic Lobero Theatre where champaign and bites were plentiful and music lovers could chat with Maestro Kabaretti and local artists in attendance. Maestro Nir Kabaretti, his wife and mother (visiting from Rome) enjoyed meeting symphony patrons, along with music lovers and their families during the welcome reception.
The musical program was an up close and personal gathering filled with delightful examples of exciting moments to come at the Granada during this new symphony season and was followed by a VIP gathering where Katherine R. Martin, CEO introduced the new board members for 2023-24, and everyone praised the staff and performers for a wonderful preview of what's coming for 2023-24. Nir Kabaretti and the talented team enjoyed high praise while meeting invited guests.
From Beethoven to the Oscars, Mahler to jazz, and Dvorak to opera, the Santa Barbara Symphony is for everyone! Music & Artistic Director Maestro Nir Kabaretti has assembled a spectacular season of diverse talent and repertoire to create a fantastic symphonic journey October 2023 - May 2024.
Everyone in the audience appreciated the up close and personal introductions to our SB Symphony Maestro Nir Kabaretti and very talented musical team. I overheard many guests share they were so looking forward to attending the amazing programs planned for the new season. Season sponsors 2023-24 Sarah & Roger Chrisman, corporate sponsor Montecito Bank & Trust, venue sponsor Granada Theatre and a bevy of generous concert sponsors were thanked.
This celebratory Season Preview event was hosted by Music & Artistic Director Nir Kabaretti, and attendees were treated to performances, stories and behind the scenes inspiration - all aimed at creating connections to the music, musicians and the organization creating only-in-Santa-Barbara experiences:

The 2023-2024 Season includes: