Hotel Bars in Vienna - Where the Fun is!
There are about 150 hotel bars in Vienna, and every one of them has something special to offer. DJs play Vienna-style electronic music at the Shambala at Le Meridien, the Silverbar at the Hotel Triest and at the Barfly's Club where nobody would be surprised if Hemingway were to come in all of a sudden.

The bar at the Bristol, opposite the State Opera on Vienna's Ringstrasse boulevard, exudes old-world elegance. The wood-panelled premises offer not only liquid refreshment but also specialties from the luxury Korso Restaurant.
Another bar located in Vienna's historic center near to the up-market emporia on Kohlmarkt is the popular H12, which has fast become one of the main meeting places for the in-crowd. This lounge-style wine bar with Italian flair in the Radisson SAS Style Hotel offers a range of fine wines and its famous Milan-style aperitifs. Anyone in need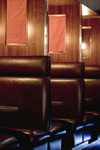 of refreshment after a shopping trip on Mariahilfer Strasse round it off at the Barfly's Club in Hotel Fürst Metternich on Esterházygasse. This owes its timeless ambience to dim lighting, a host of black and white photographs, and jazz music.
The Das Triest design hotel enchants its guests with its unique mixture of a historic building and modern design, and the Silverbar is particularly well-loved. Robbie Williams – who shares a taste for the hotel with David Bowie and Kylie Minogue –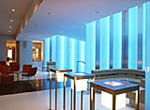 actually had a replica of the bar built backstage for his Vienna concert at the Ernst Happel Stadium in 2003. Another location that has put clear water between itself and the usual hotel bar is the Shambala Bar at the Hotel Le Méridien. Leading DJs billed as the Meridien Vienna Allstars fill this minimalist lounge with sounds that appeal to a wider audience than the habitual trendsetters and devotees of chic.
Bar im Hotel Bristol
1., Kärntner Ring 1, tel. +43–1–51516–535
www.hotelbristol.at
H12
1., Herrengasse 12 (Radisson SAS Style Hotel), tel. +43–1–22 780
www.radissonsas.com
Barfly's Club
6., Esterházygasse 33 (Hotel Fürst Metternich), tel. +43–1–586 08 25
www.castillo.at
Silverbar
4., Wiedner Hauptstraße (Hotel Das Triest), tel. +43–1–589 18–133
www.dastriest.at
Shambala Bar
1., Opernring 13 (Hotel Le Méridien),
tel. +43–1–588 90 0
wien.lemeridien.de
---
Dublin Peach

My Dublin Peach, a term of endearment often heard in Dublin, the home of Jameson.
Boston shaker glass
Handful of ice cubes
37.5ml Jameson
1/2 shot of lemon juice
Dash of sugar syrup
12.5ml Amaretto liqueur
12.5ml Vanilla schnapps
Shot of peach puree
Shake well
Tumbler glass
Fill with ice
Pour cocktail
Garnish with peach
---
Wingard spirits LAUNCHES v2 Super-premium ENERGY vodka
Get Your Drink Out of First Gear at www.v2vodka.com
The past several years have seen an explosion of energy drinks and energy mixed cocktails, and the vodka Red Bull is a familiar call across bars nationwide. THIS year, family-owned Wingard Importers, the innovator of the energy spirit category with the 2005 launch of its Everglo energy liqueur, says, "let's go!" with the launch of V2, a super premium imported vodka infused with caffeine and taurine.
What's different about V2? It is vodka with all the benefits of an energy drink. "V2 tastes like the super- premium, small-batch vodka it is," says Wingard's James Goldstein. "V2 is exceptionally smooth, distilled five times and expertly filtered to be the best tasting vodka possible." Taurine is the essential amino acid found in Red Bull, Rockstar, Megaman Vitamins, and other products.
Distilled in Holland, V2 is the brand that will provide the means for consumers to enjoy their dirty martini or Power Drill (a V2 screwdriver) and get the same boost as an energy drink without the sugar (or artificial sweetener), artificial taste or carbonation inherent in most energy drinks. V2 made its debut just last month in New York and is already in a key 100 accounts. V2 is also in Chicago and Los Angeles, and has already won adherents as diverse as Green Day's Mike Dirnt and fashion designer Swaim Hudson (who sampled it during fashion week in NYC) and Parker Posey, Billy Crudup and Peter Saarsgard, among others (who sampled it at Sundance).
Goldstein came up with the idea for V2 back in his early bartending days. "Why should the night end early?" he recalls. "People want to stay out late and most alcoholic beverages tend to make them sleepy." After energy drinks came on the scene and quickly became popular vodka mixers, Goldstein came up with this simple alternative. "The name is as simple and powerful as the concept."
V2 speaks directly to the changing nature of social imbibing. Samantha Daniels, president of swanky bicoastal matchmaking service Samantha's Table (www.SamanthasTable.com), says ,"I was out the other night, looking for a location for Valentine's dates for my clients. I went to a restaurant called Chi and had V2. And I thought, this would be a perfect drink to tell my clients about because a lot of times they go to their dates straight from a long day at the office so now if they drink V2, they can have a cocktail and get revitalized all at the same time."
Ever adaptable, Goldstein promises V2 could lead the way for a whole stable of energy spirits. He concludes, "If the market wants an R2 energy rum, or B2 energy bourbon, Wingard will be there to serve it up."