NATIONAL RESTAURANT HOSPITALITY MONTH
Meet Three Top Chefs Who Care About Healthy Plates 
Executive Chef Robert Sapirman, Hotel Valencia Santana Row
With a passion for local organic ingredients, delectable creations and highly artistic presentation, Executive Chef Robert Sapirman oversees all food services at Hotel Valencia Santana Row, including Citrus restaurant, Vbar and Cielo rooftop lounge.
Chef Sapirman engages patrons by making himself available and visible. Throughout the night, he incorporates what he calls "table touches," where he physically stops by the table to talk to guests, into his nightly routine. He also works directly with hotel guests that have questions or special needs, puts together tastings for those planning special events, regularly visits the local farmer's market and participates in local events sponsored by charities.
 In terms of trends, Chef Sapirman sees movement towards smaller portions. People are choosing restaurants that serve tapas, mezes or antipasti, showing their preference for plates that are good for sharing and offer a wide variety of different flavors in one meal.
Chef Jeffery Balfour, Hotel Valencia Riverwalk
Chosen as a local favorite by Bravo TV's Top Chef Texas, Chef Jeffery Balfour produces dishes that evoke South Texas in clever, understated and flavorful ways for guests at Hotel Valencia Riverwalk.
 Chef Balfour likes to engage the public by participating in local events throughout the San Antonio community and in cities across the country, including those run by charitable organizations. He also takes pride in the restaurant staff's interaction and support with local vendors, purveyors, producers and farmers.
 Chef Balfour sees a trend toward family style cooking and comfort food. The team at his hotel's restaurant, Citrus, is often asked to prepare family style menus for formal functions in their hotel, such as fried chicken and homemade pickles, along with their more sophisticated menus. This push becomes a blend of two worlds – the new and innovative combined with the opportunity to enjoy personal favorites and share dining experiences.
 Executive Chef Rolando Soza, Hotel Sorella CITYCENTRE
Rolando Roland Soza brings more than a decade of experience in contemporary fine dining to his role as Executive Chef of Hotel Sorella CITYCENTRE's acclaimed Bistro Alex.
 Chef Soza sees engaging with patrons as an opportunity to understand their likes and dislikes, and it provides him the opportunity to share his passion for cooking. If a guest has questions, he jumps on the opportunity to visit the table and allow them to ask him directly – which he's found also contributes positively to the overall dining experience.
Chef Soza sees a trend toward lighter fare, with a focus continuing to grow towards utilizing local farmers and producers. He and his team have built relationships with vendors around the Houston area to ensure the freshest and most sustainable products are used to prepare meals.
_______________________________________________________________
RENOWNED CHEF-AUTHOR JONATHAN WAXMAN AND OPUS ONE WINEMAKER MICHAEL SILACCI CREATE WINE DINNER CELEBRATING THE RELEASE OF OPUS ONE'S 30TH VINTAGE AT THE STRAND HOUSE
Landmark Manhattan Beach Restaurant Hosts Five-Course Culinary Tour de Force
 The Strand House in Manhattan Beach welcomes renowned chef-author and "Top Chef Masters" competitor Jonathan Waxman and Winemaker Michael Silacci of Napa Valley's Opus One Winery to present an elaborate five-course gastronomic event  Monday, October 1. 
Silacci will debut the new (2009) Opus One vintage as part of the evenings food-wine pairings. Not yet available for sale, this wine will mark the 30th consecutive vintage from Opus One. The dinner will be co-hosted by The Strand House Owner Michael Zislis and Executive Creative Chef Neal Fraser.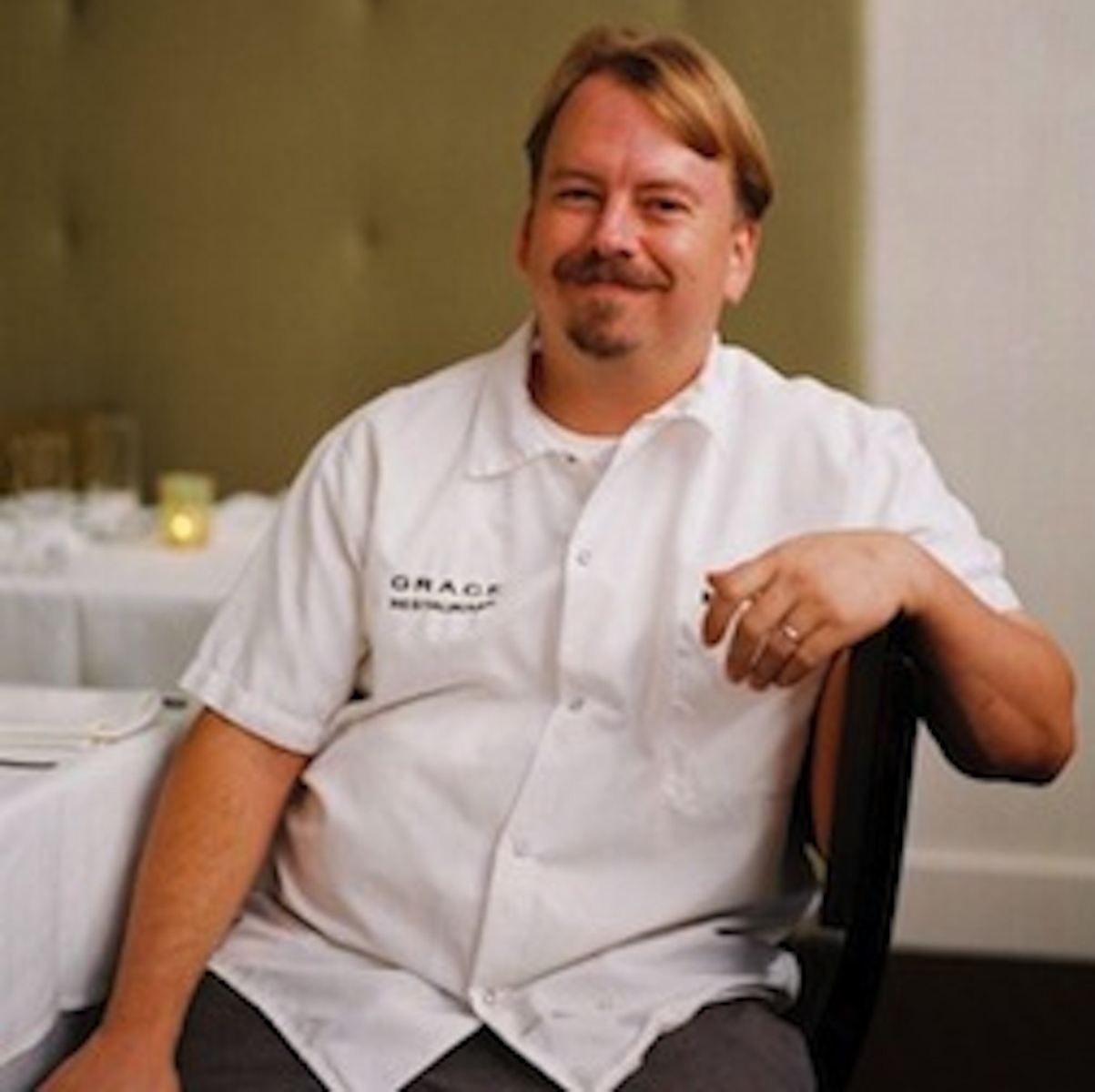 "Neal and I are honored to welcome Jonathan Waxman and Michael Silacci to The Strand House for an extraordinary evening of fine cuisine and the highly anticipated Opus One release," stated Zislis.
 Known for being a "New American Cuisine" pioneer, Waxman shares The Strand House's philosophy for serving fresh, seasonal ingredients. His trademark Italian flare and love for rustic cuisine are clearly evident in the menu that he is preparing for the event, which will include:
 – Raw vegetable salad with toasted macadamia nuts and olive oil
– Local squid on the planche with aioli and field greens
– Spot prawn, mint and jalapeno spaghetti
– Platters with JW chicken and ribeye steak with double cooked fingerling potatoes
– Chocolate budino with vanilla ice cream
At a half-hour pre-dinner reception, beginning at 7 p.m., guests will have the opportunity to meet and mingle with Waxman, Fraser and Zislis, while enjoying passed hors d'oeuvres and a glass of sparkling wine. Dinner is $100; tax and 20 percent gratuity are additional. Wine pairings are $50. Seating is limited and the event is expected to sell out quickly. For more information or to purchase tickets, please call 310-545-7470. The Strand House is located at 117 Manhattan Beach Blvd. in Manhattan Beach. 
About Jonathan Waxman
Working as a successful chef, restaurateur and author, Jonathan Waxman has graced such prestigious kitchens as Chez Panisse in Berkeley and Michael's in Los Angeles. Waxman went on to open his own restaurant in New York City – Jams, described by the NY Times as 'a culinary comet', as well as the famed Washington Park. Today, Waxman is the chef and owner of Barbuto in Manhattan's West Village. His first cookbook, A Great American Cook, was published in 2007 and his second book, Italian My Way, was released in April of 2011.  
He participated in two seasons of Top Chef Masters on Bravo, where he earned the nickname 'Obi Wan Kenobi' and Jonathan Gold of the LA Times has referred to Jonathan as 'the Eric Clapton of chefs'. Giving back is important to Waxman and he works closely with many charities including City Meals on Wheels and Alex's Lemonade Stand. He currently lives in Manhattan with his wife and three children. 
About Michael Silacci, Opus One
Michael Silacci joined Opus One Winery in March 2001 as Director of Viticulture and Enology and became Winemaker in January 2004, taking on responsibility for all aspects of vineyard management and winemaking. Prior to his appointment at Opus One, Silacci spent six years as winemaker at Stag's Leap Wine Cellars, one year as winemaker at Oregon's King Estate, and 6 years at Beaulieu Vineyard. He also made wine in France and Chile. Silacci's talents combine intuition, technical acumen and a dual viticulturist-winemaker perspective. 
About Opus One
A  collaboration between Baron Philippe de Rothschild and Robert Mondavi, Opus One arose, like any great work, out of passion. The goal was to create a wine of ultimate quality that reflects the traditions and innovations of both founders. French in style but Californian in execution, Opus One is produced with uncompromised attention to detail: from the manner in which our vineyard is planted and maintained, to the quality of the cork that seals the bottle. 
Beginning with the first harvest in 1979, every vintage of Opus One has expressed the vision and passionate spirit of its founders. While the varietal percentage of each vintage is different, Opus One is most often a blend of five grape varieties – Cabernet Sauvignon, Cabernet Franc, Merlot, Malbec, and Petit Verdot. 
About Neal Fraser
Neal Fraser is The Executive Creative Chef at The Strand House in Manhattan Beach, California.  He brings more than 20 years of culinary experience to his position.  Prior to joining The Strand House, he served as Executive Chef at Grace in Santa Monica and BLD in Los Angeles. 
An alumnus of Culinary Institute of America in Hyde Park, Fraser quickly gained experience while working with prominent chefs including Thomas Keller at Checkers Hotel in Los Angeles and David Burke at the Park Ave Café in New York. He also worked at Wolfgang Puck's Eureka Brewery and Restaurant and Spago. 
Fraser also ran the kitchens at Boxer in Los Angeles, Jimmy's in Beverly Hills, and Rix in Santa Monica.He has received noteworthy accolades that include "Hot Tables" from Conde Nast Traveler, and "LA's Best 25 Restaurants" from Los Angeles Magazine, Los Angeles Times and Angeleno Magazine. In 2006, Fraser competed in the Food Network's "Iron Chef America" competition and became the first Los Angeles chef to win the contest. 
About The Strand House
The Strand House, reminiscent of an elegant yet welcoming beach house with stunning ocean views, is a modern, multi-level venue where guests feel special whether they want to enjoy a romantic sunset dinner, a spirited sporting event or live entertainment, or even a private event in the restaurant's spectacular wine cellar.  Featuring New American cuisine, an exceptional wine list and house specialty cocktails inspired by the restaurant's resident mixologist, The Strand House is highly regarded for using fresh, local ingredients.  Passionate about his craft, Chef Neal Fraser is a regular visitor to local farmers' markets, where he carefully collects ingredients for his discerning menu and cocktails.  The Strand House is completely devoted to using organic and sustainable methods when purchasing and cooking.  The farm-driven menus change seasonally.  Since its opening in August of 2011, The Strand House has received abundant attention in the media and has been recognized by the Los Angeles Times and Zagat, and the restaurant is a 2011 Open Table "Diners' Choice" award winner.
__________________________________________________________________
---