Baby Back Ribs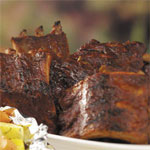 Taste of Home
"After many tries, these are the most tender and best tasting
ribs I have ever made. Everyone who tries them says the same!"
~ Joanne Parks, Steger, Illinois
Serves: 4
Method: Grill (gas or charcoal)
Time: Prep: 15 min. Grill: 1 hour 20 min.
Ingredients


Cooking Directions

Rub ribs with oil. In a small bowl, combine the brown sugar, paprika, pepper, garlic powder, onion powder and cayenne; rub over ribs. Wrap in a large piece of heavy-duty foil (about 28 in. x 18 in.). Seal the edges of foil. In a small bowl, combine barbecue sauce and beer; set aside.

Grill ribs, covered, over indirect medium heat for 1 hour. Carefully remove ribs from foil. Place over direct heat; baste with reserved sauce. Grill 20 minutes longer or until juices run clear and meat is tender, turning once and basting occasionally.